Google UK celebrates birthday with 20% discount on Pixel 2 devices and more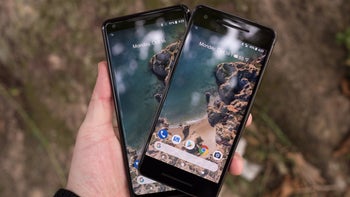 Google Pixel 2 and Pixel 2 XL
Today is Google's 20th birthday and, in honor of this, the company has introduced a new Doodle and a Street View tour of the original garage where it all started. But in the hope of enticing a few extra customers, the Alphabet-owned search giant is also offering a 20% discount on select products through its UK store.
Kicking things off with the Pixel 2 and Pixel 2 XL, their original price tags of £629 and £799 have now been reduced to £503.20 and £639.20 respectively. Alongside its
soon-to-be-replaced
smartphones, Google is also offering discounts on some of its Google Home speakers. Specifically, the Google Home Mini is now down to just £39.20, and the regular version costs £103.20 at the moment. Unfortunately, those interested in the Home Max will have to pay its full price of £399.

Elsewhere in the company's lineup, the Google WiFi can be acquired for the same price as the Google Home. Additionally, the discount has been applied to the Chromecast Ultra which can be purchased for £55.20. However, those interested in the regular Chromecast or the Chromecast Audio will have to pay the usual price of £30.
The latest discounts on the
Google
Store in the UK are valid until the end of today. In order to take advantage of them, users must be residents in the UK and have a shipping address in the country, as is typically the case.