Deal: Get a free 32-inch TV with the purchase of an LG G5 or V20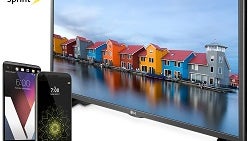 This holiday season, you have a lot of options to choose from if you're in the market for a new Android smartphone. Whether you're on a budget or looking for a high-end flagship, there are plenty of different makes and models available for your picking. While it can be easy to go with something like the Galaxy S7 or Google Pixel, don't forget to take a look at LG's offerings for the year. The G5 and V20 are very capable handsets, and while they certainly won't appeal to everyone, they just might be the perfect fit if you or a loved one is looking for a smartphone that's a bit different and more unique than everything else we've seen throughout 2016.
If either of these handsets appeal to you, Best Buy is offering a pretty incredible deal that just might be reason enough to finally throw down your cash. If you purchase either the LG G5 or V20 and activate it on Sprint or Version's network through Best Buy, you'll be able to score a 32-inch LG LED 720p HD television at no added cost. The model being offered is a smart TV too, so you'll have quick and easy access to services like Netflix, YouTube, Hulu, and more.
A free 32-inch smart TV is up for grabs if you get the G5 or V20.
To make this deal even sweeter, Best Buy is also offering a free accessory bundle that includes an additional battery, charging cradle, and an extra USB Type-C cable. You'll have to get the G5 in order to snag the extra accessories, and although the G5 isn't as powerful as the V20, it's still a solid choice if you don't like the larger body and size of the V series.
There's currently no word as to how long this deal will last, but with a free TV up for grabs, our guess is that it won't be around for too long at all. Check out the source link below if you're interested.