Deal: Garmin Fenix 5 top-tier smartwatch is $100 off at B&H
3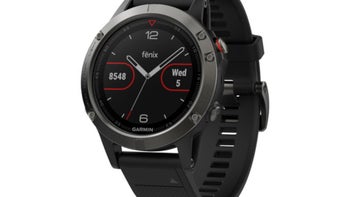 Garmin's Fenix 5 is a more than decent smartwatch even though it's been launched on the market
about two years ago
. Even though it's been released back in 2017, the Garmin Fenix 5 continues to sell for around $500 at many US retailers.
On the bright side, you can find Garmin's top-tier smartwatch for a much lower price quite often if you know where to look. For example, you can pick up a
Fenix 5
right now for just $400 from B&H.
Keep in mind though that the $100 discount won't be available for too long, as the retailer mentions that there's a limited supply at this price. Also, since the Fenix 5 comes in different color variations, the discounts are different as well.
While the Slate Gray/Black Band model is $100 off, the Black/Black Band version gets a $120 discount, but that's because it costs $600 outright. All in all, thanks to the discounts offered by B&H, you can now grab either of the two models for $400 or $480, respectively.
Recommended Stories