Deal: Best Buy is selling the 2nd-gen Motorola Moto G at just $99.99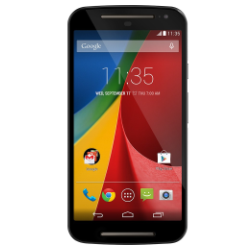 If you've been looking to purchase a decent Android smartphone at an affordable price, Best Buy's new promotion on the second-generation Motorola Moto G might do just the trick. The retailer is currently offering the
2nd-gen Motorola Moto G
at $99.99, which represents a $50 discount compared to the phone's usual retail price.
For a limited time back in late December,
Motorola ran a promotional campaign
that saw most of the company's devices being offered at discounted prices. Among these promotions, the 2nd-gen Motorola Moto G was offered at $99.99. In the meantime, Motorola exhausted its stock, but it looks like Best Buy is keeping the promotion rolling.
Although launched back in September 2014, the 2nd-gen Moto G remains a decent Android smartphone to this date, especially at just $99.99. The handset includes a 5-inch display with a resolution of 720 by 1280 pixels, meaning that videos and photos are not going to look as sharp as on modern flagships, which flaunt a resolution of either 1080 by 1920 pixels (FHD) or 1440 by 2560 pixels (QHD), but you can't really ask for more at this price.
Roughly the same story applies to the rest of the hardware specifications, which include a 1.2GH quad-core Qualcomm Snapdragon 400 chipset paired with 1GB of RAM, 8GB of integrated storage space, an 8MP primary camera, and a 2MP selfie shooter on the front. For a complete analysis of the handset, make sure to read our full 2nd-gen
Motorola Moto G review
. Unfortunately, Best Buy is selling the non-LTE Moto G version at this discounted price, which may be a setback if you're addicted to high-speed mobile data.
On the hardware side, the 2nd-gen Motorola Moto G currently runs Android
5.1
Lollipop, but Motorola is planning to update the device to Android 6.0 Marshmallow. In an age when most entry-level and mid-range rarely get updated to newer Android versions, Motorola's decision to launch Marshmallow for the Moto G is a highly applaudable one.
What do you guys think of this deal, is the 2nd-gen Motorola Moto G worth $99.99?