DROID INCREDIBLE 4G LTE vs Lucid vs DROID RAZR MAXX vs Spectrum: specs comparison
15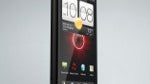 By now you should have heard that the first major announcement from this year's CTIA has already happened - the
HTC DROID INCREDIBLE 4G LTE
has been officially unveiled! The handset will join the ranks of Verizon Wireless within a few weeks.
However, we aren't really sure if its future will be that rosy. Having in mind that the INCREDIBLE 4G LTE doesn't pack any standout feature (like a quad-core CPU, for example), it will have to face a sea of other great upper-mid-end smartphones in Verizon's arsenal, like the
RAZR MAXX
,
Spectrum
and
Lucid
. And since we know that many of you will now consider this handset as your next phone, we decided to put this sweet little specs comparison table below, featuring the DROID INCREDIBLE 4G LTE and its most fierce competition!



HTC DROID INCREDIBLE 4G LTE
LG Lucid
Motorola DROID RAZR MAXX
LG Spectrum
Platform
Android 4.0 ICS
Android 2.3
Gingerbread
Android 2.3
Gingerbread
Android 2.3
Gingerbread
Screen
4" Super LCD
4" IPS-LCD
4.3" Super AMOLED
4.5" IPS-LCD
Resolution
540x960
275ppi
480x800
233ppi
540x960
256ppi
720x1280
326ppi
Thickness
0.46 inch (12mm)
0.45" (11mm)
0.35 inch (8.99mm)
0.45 inch (11mm)
Weight
4.66 oz (132 g)
5.00 oz (142 g)
5.11 oz (145 g)
4.99 oz (142 g)
Processor
Dual core, 1200 MHz, Snapdragon S4
Dual core, 1200 MHz
Dual core, 1200 MHz, TI OMAP4430
Dual core, 1500 MHz, Snapdragon S3
RAM
1GB
1GB
1GB
1GB
Rear camera
8MP
1080p video
5MP
1080p video
8MP
1080p video
8MP
1080p video
Front camera
0.3MP
0.3MP
1.3MP
1.3MP
Memory
8GB
expandable
8GB
expandable
16GB
expandable
4GB
expandable
Connectivity
LTE, EV-DO Rev.A
LTE, EV-DO Rev.A
LTE, EV-DO Rev.A
LTE, EV-DO Rev.A
Battery
1700 mAh
1700 mAh
3300 mAh
1830 mAh