DIY: Nokia Lumia 920 owner makes his own car wireless charger
20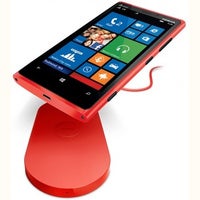 Wireless charging
pads for smartphones and tablets come in multiple shapes and sizes.
Here's one
, for example, that is both stylish and practical. But a wireless charger that is meant to be used in a car, on the other hand, is a bit more difficult to find.
That's probably why this
Nokia Lumia 920
owner decided to make his own using the standard charging pad provided by Nokia. For his hack, he used a set of neodymium magnets, half of which he taped onto the charging pad, and the others were taped on the inner side of a Lumia 920 protective case.
Yeah, the whole setup doesn't look pretty, but it is simple and gets the job done, as it is being demonstrated in the video. Hopefully, accessory makers and Nokia itself will take this as an example and come up with a professionally-made car charger for smartphones.