CyanogenMod founder prepping incognito mode for Android to sandbox personal data
14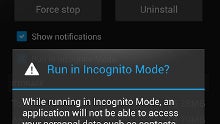 Steve Kondik, of CyanogenMod founder fame
, is never resting on his laurels, and now he is after creating an Incognito Mode of sorts for Android handsets. The idea is to return an empty list when an app tries to peep into your contacts, messages, browser history, calendar and so on, unless you have specifically given it permission to do so.
This way your personal data is kept separately from your apps, as there is quite the bunch of
snooping fluff
out there.
This won't spoof your IMEI number, or serve as an ad-blocker, but will keep your most private info truly private. No end date for the project release is given yet, and no
NSA agents
will be harmed during the development process.