Cutting corners: Galaxy A8 and A8+ (2018)'s home button isn't pressure sensitive
20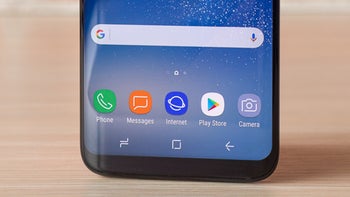 Samsung's latest design achievements are slowly trickling down to its mid-range lineup of devices, namely the fresh new
Galaxy A8 (2018) and A8+ (2018)
which got official just yesterday.
Aside from closely following suit to the overall design language of the Galaxy S8, S8+, and Note 8 to some extent: with rear-positioned fingerprint scanner, tall 2:1 displays, and bezel-less front, the new mid-rangers are mostly deadringers for the higher-tier flagship devices.
Yet, while the two new phones are getting closely modeled after the S8 and S8+, it seems that they aren't getting the pressure-sensitive display area at the bottom of the screen that doubles as a physical home button.
Unlike S8 users, adopters of the new A series will have to unlock their devices the old-fashioned way: either by pressing the power button or by double tapping the screen to wake up the device and then accessing the software navigation bar at the bottom.
While that's no big deal, it's clear why Samsung hasn't thrown in this useful feature on the A8 and A8+ (2018). Aside from keeping it a flagship-exclusive, the South Korean giant is also certainly trying to keep costs down by cutting the unnecessary corners. It's not logical to expect such a high-end feature in mid-rangers like the A series.