Samsung Galaxy A8+ (2018) Review
14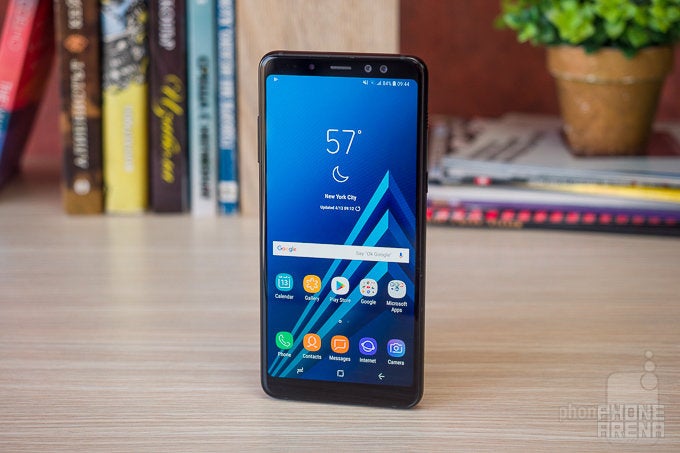 Update

: You can now read our Galaxy A80 review!
The Galaxy A8+ 2018 is Samsung's newest upper mid-range phone. It has a big, 6-inch Super AMOLED screen that makes it stand out from most other phones in its class. It also looks very similar to the flagship Galaxy S series with a glass-and-metal design and water resistance, but once you look inside, you find a mid-range chip and a different camera.
How does this combination of premium looks and mid-range hardware work? We used the phone for a while to find out, and you can find our answers below.
In the box:
Samsung Galaxy A8+ 2018 phone
User manual
Fast Adaptive Charge wall charger
USB-C to standard USB cable
In-ear headphones (white, with 3.5mm jack)
SIM card ejector tool
Design
The A8+ is made of premium materials – glass and metal – and it's water resistant, but it feels a bit too big and bulky.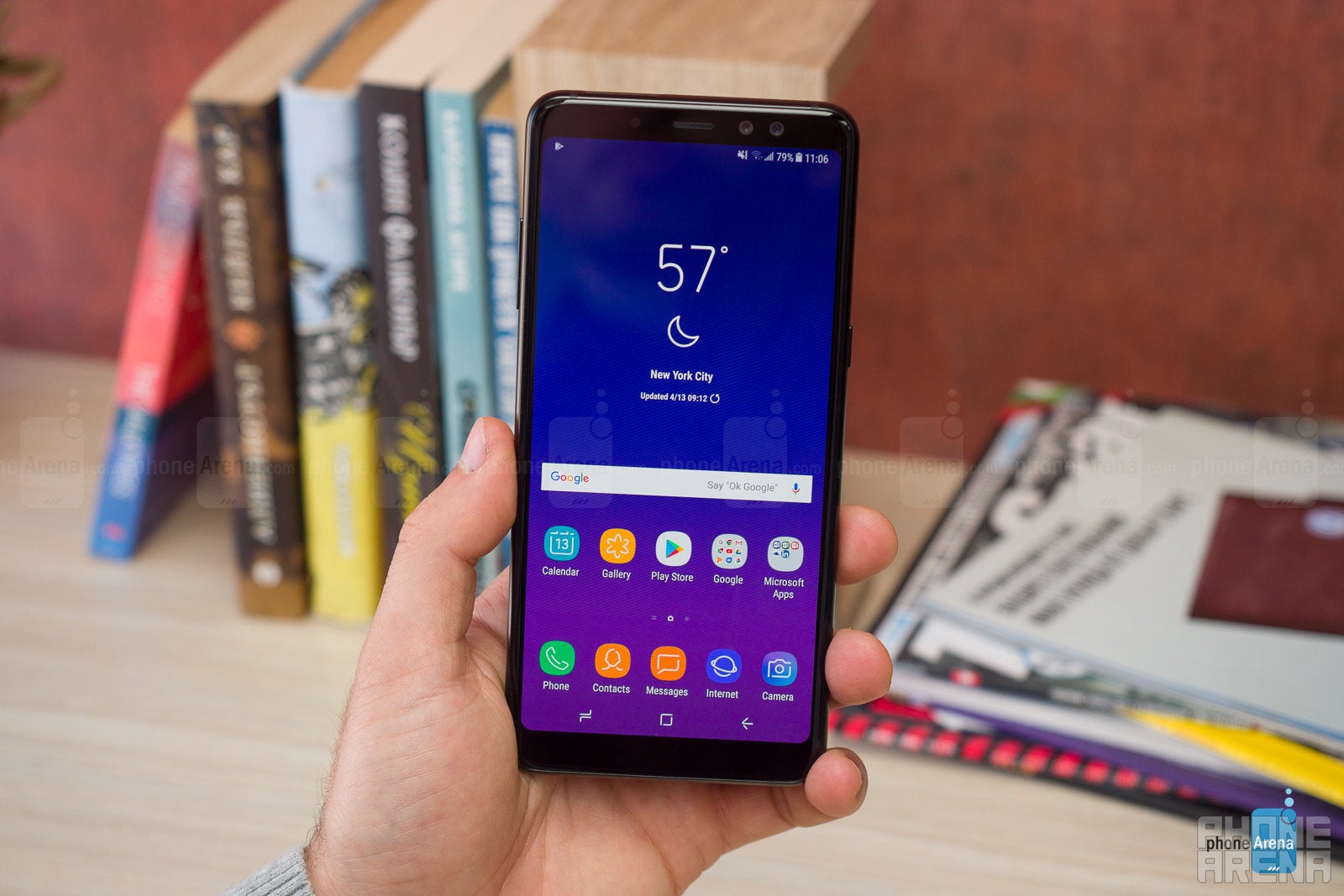 The Galaxy A8+ 2018 looks very similar to the flagship Galaxy S9/S8 series from afar: with reflective glass back, metal frame, similar styling for the camera and so on.
But there are a few differences that you notice upon closer inspection: first and foremost, the phone lacks the elegant curves of Samsung's flagships and feels bigger and bulkier. It's still not a giant phone considering that you have a 6-inch display, but it is not quite as elegant as a Galaxy S9 or S8.
The glass back of the phone gets messy with fingerprint smudges extremely easily, so this is one argument in favor of using this phone in a case. It's also glass, and glass tends to break when your drop it, so that's one more argument.
On the left side, you have the volume keys, but the Bixby button is missing. You do have Samsung's Bixby voice assistant on board, just not the dedicated physical button for it. This is not a huge loss for us, as we still don't find Bixby quite as useful as the Google Assistant, but still worth noting.
On the bottom, you have a USB-C port for charging and a headphone jack.
The A8+ also has an IP68 water resistance rating, meaning that it will survive a short dive in water and those summer days by the pool. It's officially rated to withstand up to 30 minutes of immersion in fresh water as deep as 5 feet.
Fingerprint scanner position
The fingerprint scanner is located on the back of the phone, below the camera, so it is easy to reach. It's still a bit too close to the camera, and you might accidentally smudge the lens with your finger, so make sure to wipe the camera clean before using it.
As for the fingerprint scanner, it is a rounded rectangle that is a bit small and not quite as fast as we've seen on other phones, but still, this would be nit-picking rather than an actual complaint.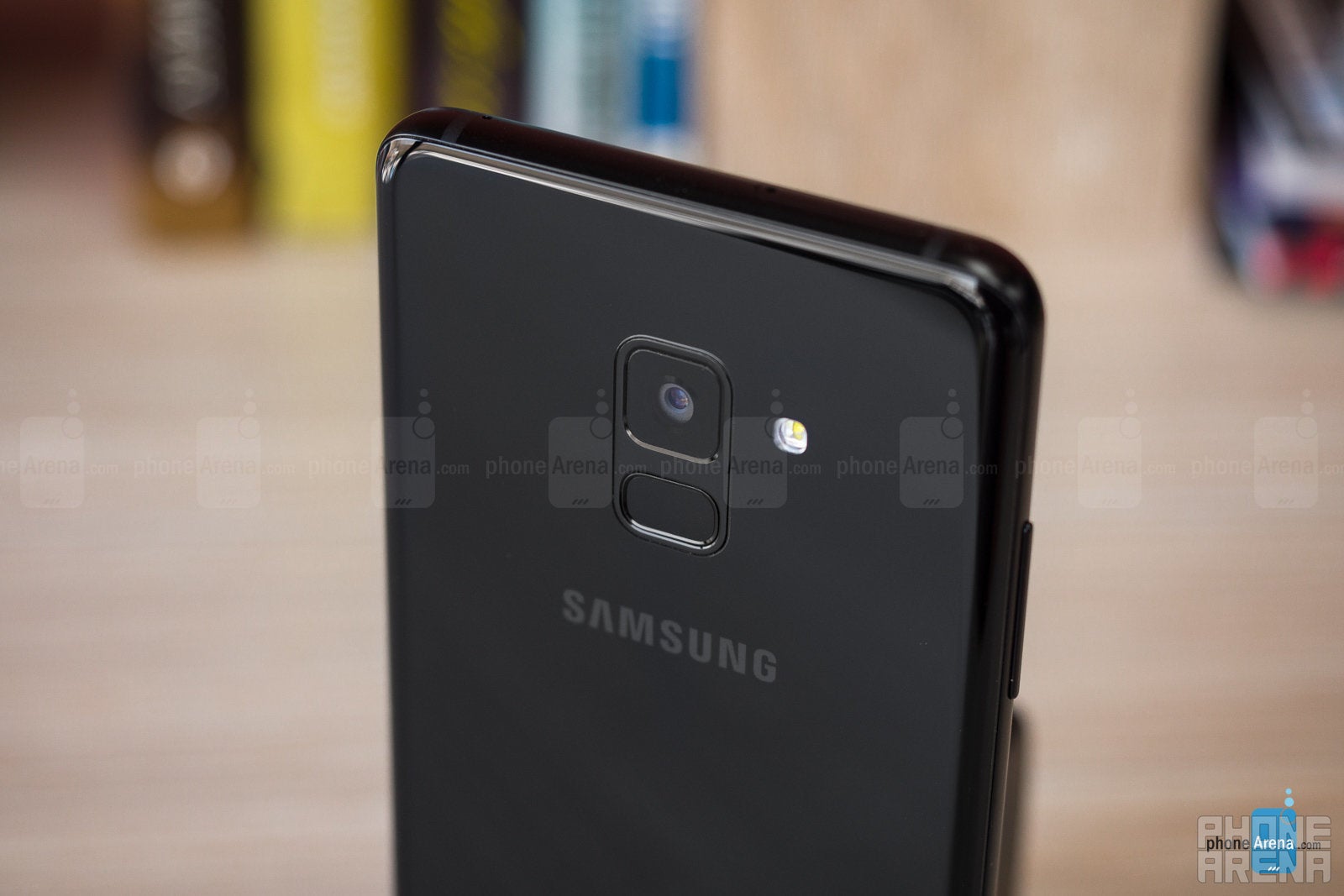 You also have face identification that you can use alongside fingerprint recognition, and it does a decent job during the day, but we would still rely on the fingerprint scanner most of the time.
Display
A bright and vivid display, but the bigger bezels ruin a lot of its appeal.
The A8+ features a 6-inch Super AMOLED display that looks gorgeous, with lush colors and deep blacks. Samsung calls this an "Infinity Display", the marketing name for its taller and narrower displays with an 18.5:9 aspect ratio and edge-to-edge, almost bezel-less designs. This particular screen, however, is not curved like the one on the S9/S8, and with a flat design, the bezels actually look much, much bigger than on the flagships. It definitely ruins a lot of that "bezel-less" look and feel.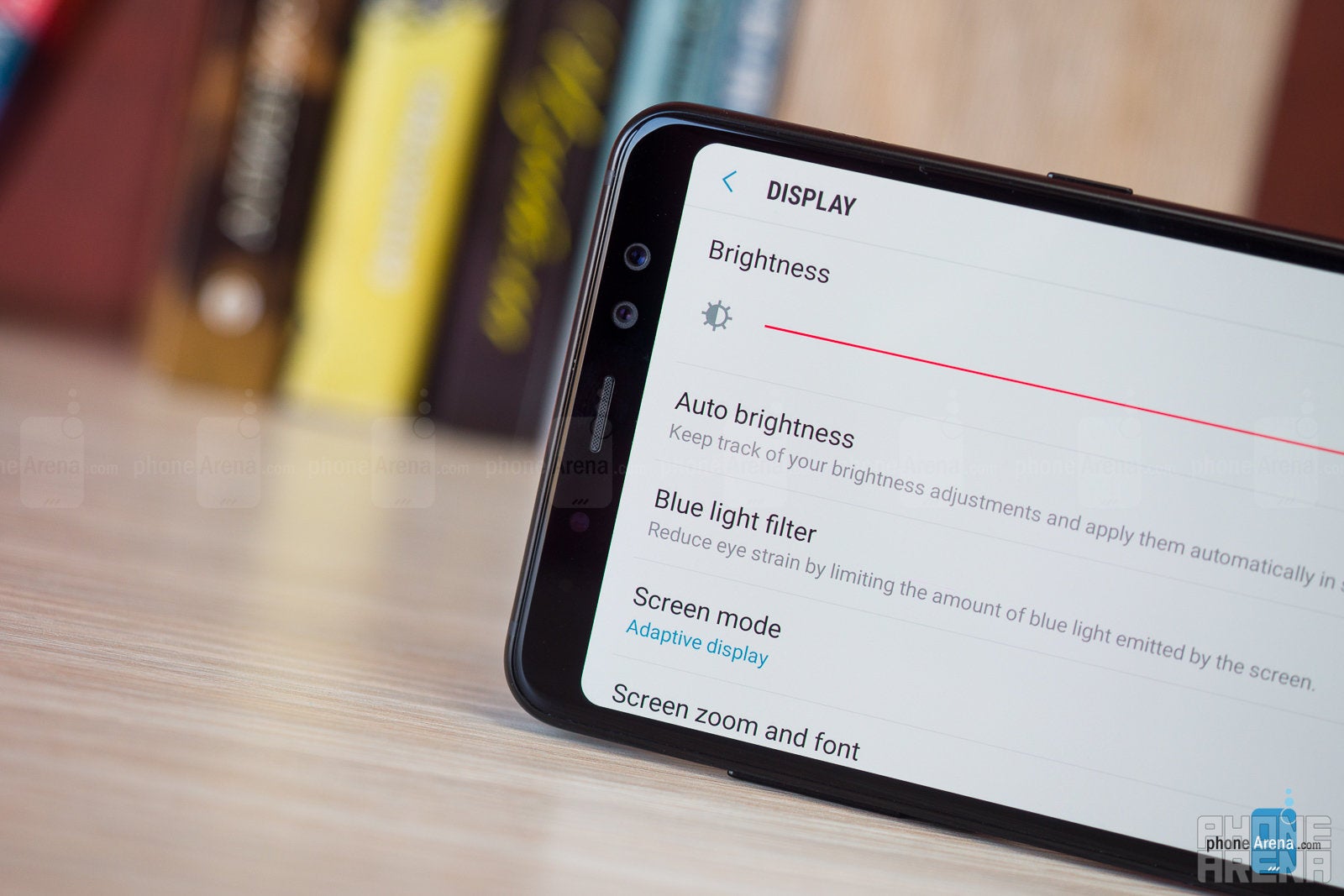 For all else, this screen is really the focal point and the biggest advantage the A8+ has over its rivals. It's bright, so you can see it relatively easily outdoors, and it has rich colors.
Color balance is not quite as refined as on the flagship Samsung phones, as you have slightly colder whites and colors overall are not perfectly balanced, but they are not too far off either. As with all Samsung AMOLED displays, you have the choice of different color modes in Settings > Display. The default Adaptive mode produces lively, lush, oversaturated colors, but if you don't like this look you can tone it down to other modes. The basic mode is the one that gets closest to the sRGB standard that you might want to use if you want standard-accurate colors.
You also have the Always-on Display feature on the A8+. It takes some additional battery power, so it's up to you whether you want to use it or not. If you do, a good tip would be to go into settings and set it up to not work at night, as you probably don't need it then.
Display measurements and quality
Interface and Functionality
Samsung Experience on top of an old Android version.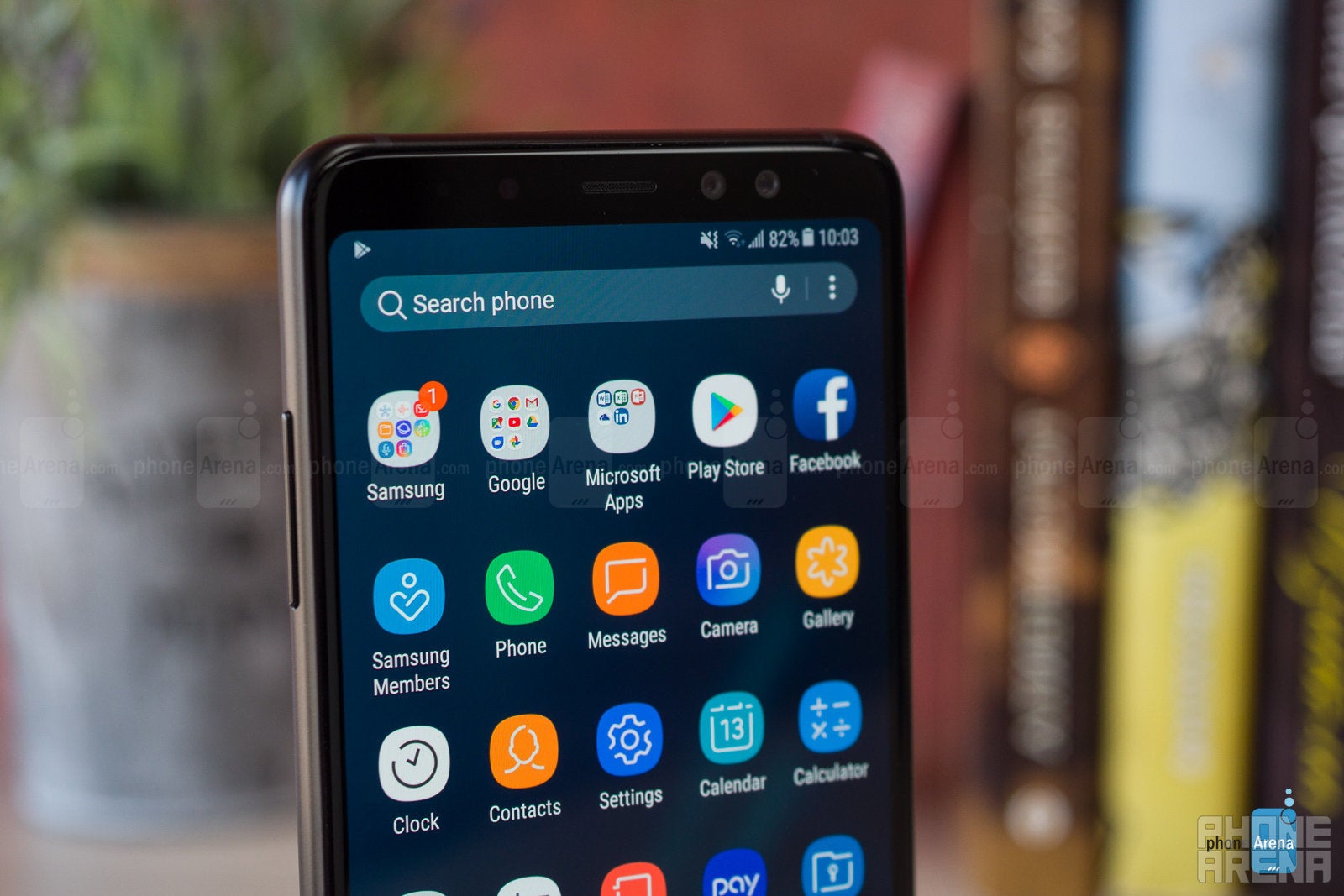 Every year with Samsung phones, we look at the Samsung Experience user interface and say the same thing: it looks good, but does not perform good enough! The TouchWiz curse carries on generation after generation, and Samsung phones always seem to work well in general, but with a tiny bit of stutter: not so much as to ruin the experience, but definitely noticeable when you compare it to a Google Pixel or a OnePlus. Well, things are getting better every year, but the A8+ is still not that perfectly smooth performer.
Another disappointment comes when you see that Galaxy A8+ 2018 runs on the dated Android 7 Nougat out of the box, which is a shame. An update to Android 8 Oreo is in the plans, but it's almost time for Google to unveil Android 9 soon, so it's definitely very, very late.
For all else, Samsung Experience is a familiar user interface that has a lot of good options and a streamlined look. The unmistakable colorful squircle icons, the swipe-up app drawer, the well segmented settings menu, the themes selection and customization options are all here.
Power-user features like split-screen multitasking, KNOX security and Secure Folder are also on board.
We like the universal search in Samsung's interface that pulls detailed results from all over the system. It is actually very useful, and you can search for settings right there.
First-party apps have a polish to them that is among the best from a company aside from Google.
Processor, Performance and Memory
A mid-range chip and only 32GB of on-board storage.
The Galaxy A8+ 2018 is powered by the Samsung Exynos 7885 chip. This is an upper mid-range chip that is a far cry from the Snapdragon 835 in terms of performance, but it's also better than your typical mid-range chip like the Snapdragon 625.
The Exynos 7885 is built on the modern 14nm LPP FinFET manufacturing process, which ensures it does not consume too much power. It consists of 2x powerful Cortex A73 CPU cores running at up to 2.2GHz and 6x efficient Cortex A53 cores running at up to 1.6GHz.
We have already mentioned the good performance you get with everyday tasks, but this chip does not break any benchmarking records. In fact, it scores lower than most of its rivals in both CPU and GPU tasks, so this is not a phone for die-hard gamers and those who push the limits of a phone's performance.
The A8+ 2018 also comes with 32GB of on-board storage, while some other phones in this price range now have double the storage. Fortunately, you do have a microSD card slot to expand the on-board space.
Internet and Connectivity
The Galaxy A8+ 2018 has 4G LTE connectivity with support for North American and global bands, so you can travel most of the world while getting good LTE connection.
In the United States, the phone will work with GSM carriers AT&T and T-Mobile, but is not compatible with Verizon Wireless or Sprint.
The A8+ 2018 is also a dual-SIM dual-standby phone with a true Dual SIM card slot on top and a separate microSD card tray on the side. This means that you can use two SIM cards AND have a microSD card on board, which is a welcome thing for a phone with just 32 gigs of on-board storage.
Other connectivity options here include GPS, dual-channel Wi-Fi and Bluetooth 5.0, as well as support for NFC and Samsung Pay.
Camera
A great selfie camera, an okay rear camera and disappointing 1080p video quality.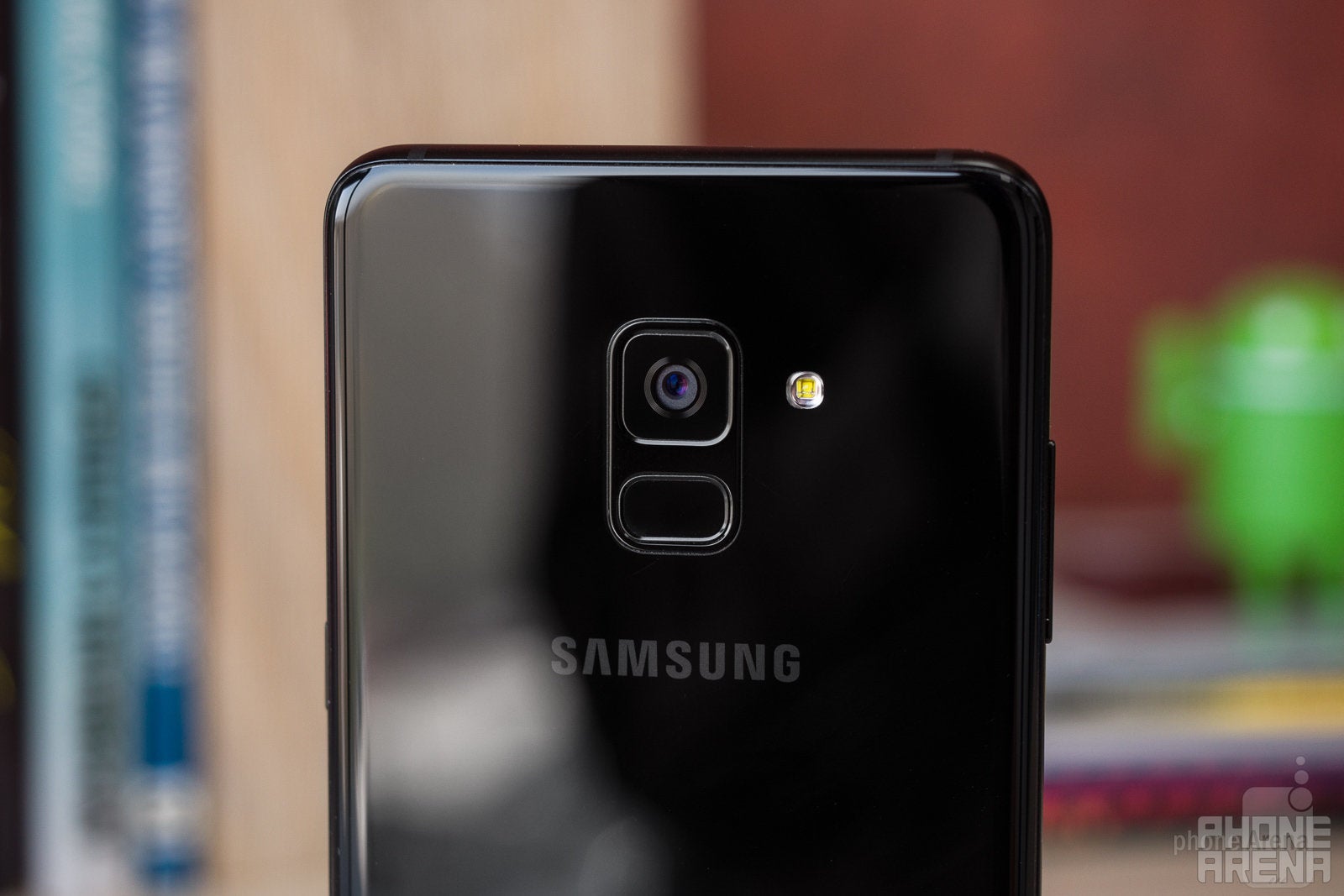 While the A8+ might look like Samsung's more expensive phones, its camera is clearly not the same.
On the back, the phone has a 16-megapixel single camera with an f/1.7 lens, while up front you have a dual camera system consisting of a 16-megapixel and 8-megapixel cams that can blur the background on selfies for a cool, DSLR-like blurred-background effect.
The camera app is the familiar Samsung one. You can quickly launch it by double clicking the power button on the side. Swiping up and down on the viewfinder switches between the front and rear cameras, while swiping left brings up filters and swiping right reveals shooting modes (you have a Pro mode with manual settings, Panorama, Hyperlapse, Night and Food modes, and you can download more). You can easily zoom in and out by dragging the white shutter button up and down, which is neat. The red button below the shutter instantly starts recording video. Holding the video button switches to video aspect ratio, allowing you to preview the frame before recording starts.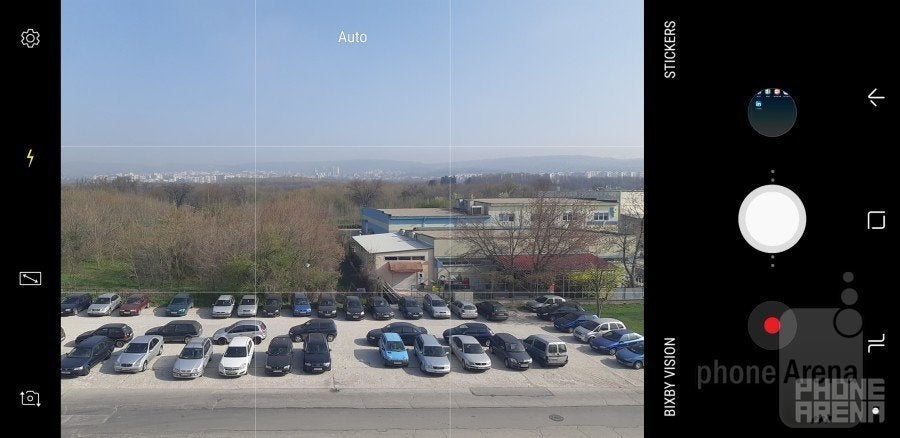 The Camera app
Image Quality
How do photos actually turn out?
During the day and when you have plentiful light, the A8+ captures some very good looking shots with lively, pleasing colors and with good amount of detail. Only in a few shots, the A8+ strangely underexposed the scene significantly (look for the photos of the boats below), but apart from those few shots, everything else was exposed properly and looked fine.
At night and when there is less light, though, the A8+ is not that great as images would often turn blurry and/or noisy.
Take a look at some photos we took with the phone below.
Selfies with... Portrait Mode!
When it comes to selfies, though, the Galaxy A8+ 2018 performs very well.
The "Live Focus" effect is cool and makes selfies look memorable, giving them that DSLR blurred-background feel. You can adjust the level of background blur, detail is sharp and the rendition of skin tones is pleasant. Overall, this is definitely one of the better front cameras out there.
Video
The A8+ can only shoot video in up to 1080p video at 30 frames per second, while most rivals in the same price range can record 4K video. 1080p video has nice colors and it supports digital stabilization that does a nice job, but lacks detail, something that is very noticeable, especially when you view the video on a big screen. This is definitely one of the weakest sides of its camera.
Interestingly, video quality from the front camera is actually quite good and better than on many rivals. The front cam can also record 1080p videos, but they have clearer detail and a sharper look.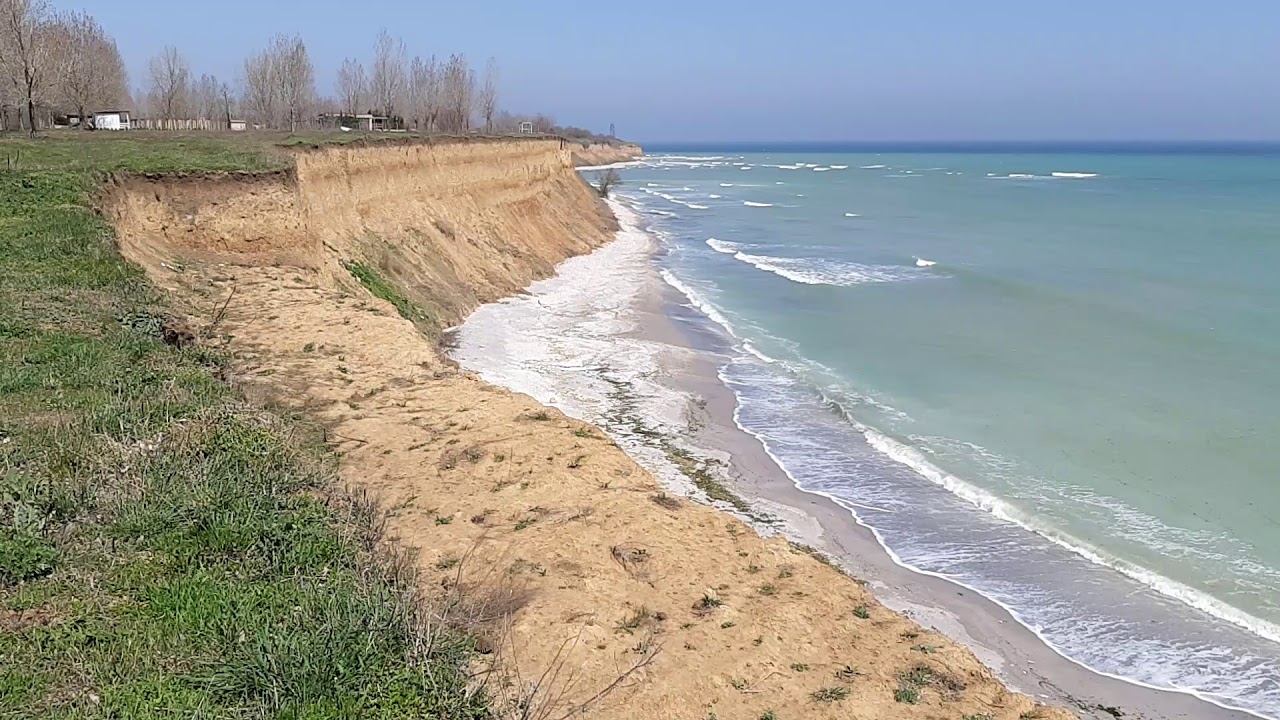 Sound quality
You have a single loudspeaker on the A8+ and it is positioned on the right side of the phone. We saw this same strange position for a loudspeaker on the Galaxy A series last year, and while it is non-traditional, we find it a good place for a speaker as it does not get muffled when you hold the phone or when you lay it on a table.
The loudspeaker quality is just about average. Recent flagship phones have shown that you can get truly impressive sound from a tiny phone speaker, while on the A8+ there is not much depth and music sounds a bit tinny, but it is also loud enough not to be disappointing.
Thankfully, there is a headphone jack on board as well, so you can easily plug in wired headphones when you need to. The phone also supports Bluetooth 5.0, but lacks the AptX HD codec support that some higher-end recent phones have for high-resolution audio transmission via Bluetooth.
Call Quality
We had no issues with call quality on the Galaxy A8+ 2018. It's easy to recognize the natural tonality of your caller's voice in the earpiece and sound is of sufficient quality and loud enough. We have no complaints about microphone output on the other end of the line either.
Battery life
Will last you through even those longer days, but not quite a 2-day performer.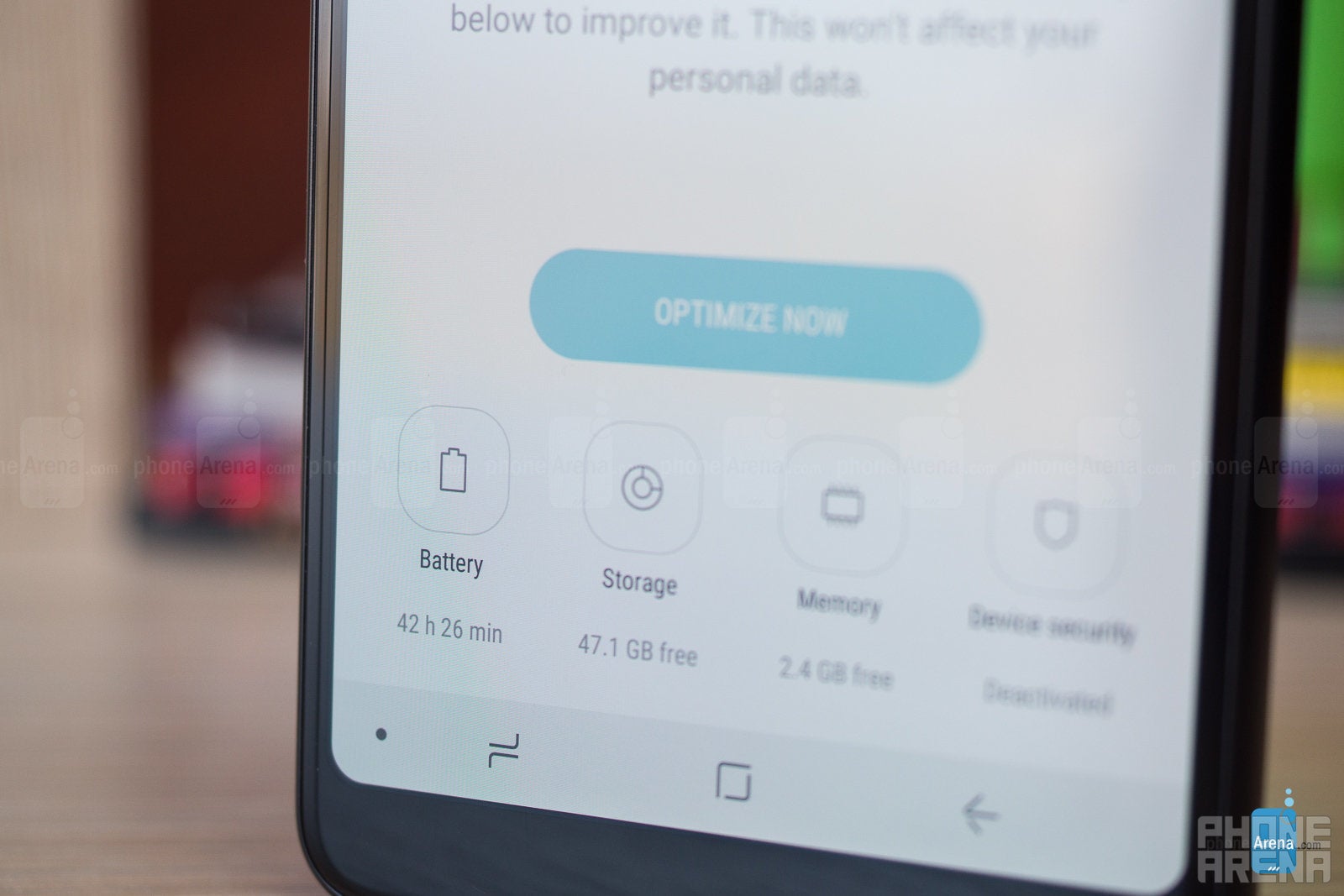 The A8+ 2018 features a 3,500 mAh battery, the same size as on the Galaxy S9+ and about the average for a device this size.
We did not have any problems getting through a full day, and the A8+ will keep enough charge to last through even those longer days, which is about what you expect from a phone with a good battery life. Still, the A8+ battery is good, but not extraordinary and this is not a phone that will last two days off the charger.
We ran our battery life test on the phone, and it scored 9 hours and 24 minutes, better than the flagship S9+ and S8+. Just like on those phones, turning off the Always On display option in Settings will significantly improve stand-by time.
Another important aspect of the battery experience is charging times. Sometimes you need that extra battery boost during the day and you need it fast – during the lunch break, for instance. Good news is that the A8+ comes with Samsung's Fast Adaptive Charger in the box and it indeed recharges quickly.
Here is exactly how fast it recharged:
21% in 15 minutes
40% in 30 minutes
100% in 1 hour and 39 minutes
One feature that is missing from the A8+ 2018 is wireless charging, so you only have the USB-C port for charging the handset.
Price and alternatives
The Samsung Galaxy A8+ 2018 is a phone that does not have an official U.S. version, but you can still buy the international model unlocked with a US warranty from B&H or from third-party sellers on Amazon and it will work with GSM carriers like AT&T and T-Mobile. The price is set at $530, which is in the upper mid-range tier, slightly cheaper than the $600 asking price for Samsung's last year Galaxy S8.
Internationally, the A8+ is sold in only a few markets: Mexico, Turkey and the Middle East, and it commands a higher, upper mid-range price close to that of a flagship. Unlocked, the A8+ is sold for the equivalent of over $700 in Mexico (€570 in Europe).
For the price of the A8+ 2018, you have some worthy alternatives: in Apple land $550 buys you an
iPhone 6s Plus
with a 5.5-inch display, iOS with all the apps and timely software updates, as well as an excellent camera with 4K video recording.
Android alternatives include the
Honor View 10
(
read full review here
) with a faster processor, a flagship-grade 6GB of RAM and a whopping 128GB of on-board storage, as well as a dual rear camera that can take portrait shots with a blurred background. And it runs on the latest version of Android, 8.1 Oreo.
You also have now cheaper phones like the
Sony Xperia XZ Premium
(
read full review here
) for $550, and it has a flagship Snapdragon 835 chip, a 5.5" 4K LCD screen, and a more powerful camera.
The
Essential Phone
(
review here
) is another alternative with the benefit of being the only phone made by Andy Rubin's company Essential and as such getting all the attention of the company and getting constantly updated.
Conclusion
The
Galaxy A8+ 2018
is a mid-range phone made with premium materials, sporting a gorgeous, big AMOLED screen as its biggest highlight and featuring the Samsung Experience interface that offers some advanced options. And it comes with a few extras like a true dual SIM experience and IP68 water protection.
What's not to like?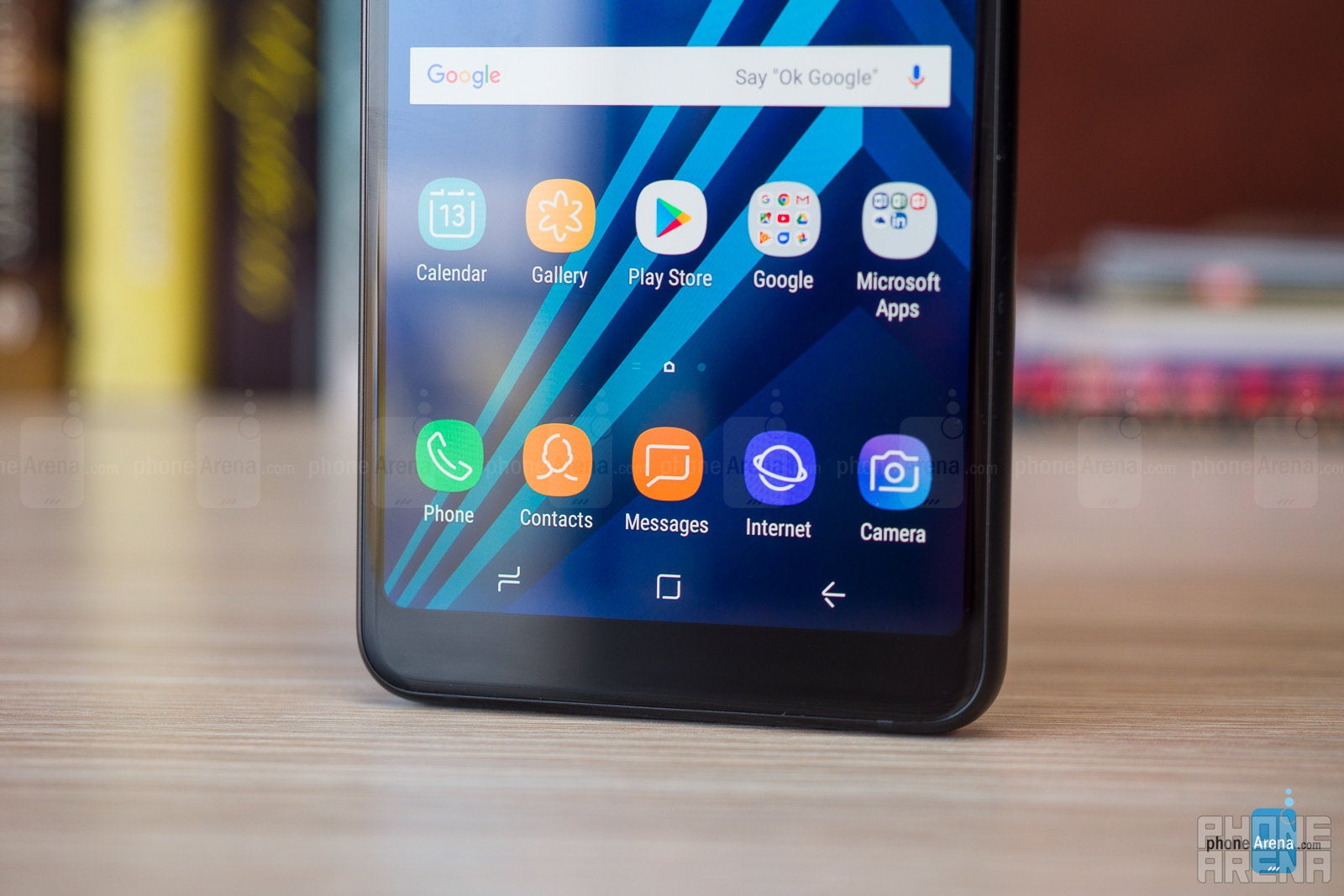 Well… a few things, actually. First and foremost, this is not a phone that pushes any boundaries: its body is a bit too big and bulky, its bezels are too noticeable and distance it from the "bezel-less phone" ideal and the whole Infinity Display thing. And then, it ships with an outdated software version from the get-go, and chances are it will rarely if ever get updates.
The camera is also not quite great and it cannot record 4K video and the performance exhibits the typical Samsung stutter, while other phones run much smoother.
At the end of the day, you get what you pay for with the A8+: a solid mid-range Samsung Android phone. If you value a the beautiful AMOLED display and don't care too much about updates, this would be a good option. But if you are looking for performance, speed, and a bit more excitement, there seem to be quite a few other phones that fit those ideas better.
Update

: You can now read our Galaxy A80 review!
Recommended Stories