Control Panel for Android brings the quick settings panel from Android 4.2 to your handset
3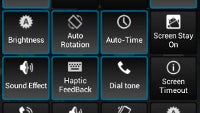 Enticed by the
quick settings panel in the drop-down notification bar that comes with Android 4.2
? Can't wait? Well, LG has had connectivity toggles in the notification bar for a while, and so has Samsung now, as well as many launchers, 3rd party applications and custom ROMs, but if you want an experience close to Android 4.2, there is now an app for that. Android control panel is a notable addition to any Android phone.
Control Panel for Android allows every device with Android 2.2 and above, to have connectivity and other settings toggles in the notification bar, arranged in a panel like in the latest 4.2 version. Definitely one way to add an Android Control Panel to your device.
If you are interested to check it out, head over to the Google Play Store link below, or download it as an APK file to sideload from the XDA-Devs forum thread in the source link.