Android 4.2 Jelly Bean: the new features
54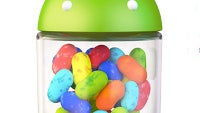 Android has evolved a lot since its early days. From a raw platform making its shaky debut in October 2008 on the T-Mobile G1, it has since then pushed the pedal and become the world's most popular platform. What's more important, it no longer feels as if Android is catching up - rather it is leading the way and others are now trying to keep pace.
Android 4.0 Ice Cream Sandwich
and the arrival of Palm and webOS chief designer
Matias Duarte
, look like the breakthrough moment. While ICS finally matured the looksm,
Android 4.1 Jelly Bean
added the perfectly smooth performance the platform needed.
Android 4.2 builds on that with a razor sharp focus on the user. Google brings a ton of gradual improvements, making Android more and more user friendly. You've heard it over and over that Android is for the geeks and not the casual user. Google is determined to change this perception, and it does take a giant leap towards that in 4.2.
So with no further ado, here are all the new Android 4.2 features, take a look.