Consumer Cellular to hire some of T-Mobile's laid off workers, sub-lease its old call-center
5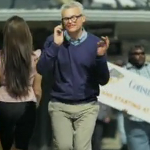 You might have seen Consumer Cellular's commercial on television with the two elderly brothers, surprised to find out that they can afford a cell phone. The carrier
has a relationship with AARP
to provide its members with low cost cell service and a no-frills handset. Business, though, must be pretty good because Consumer Cellular is hiring as many as 650 workers laid off from T-Mobile and is planning on installing them in a 77,
000 facility in Redmond, Oregon once used by the nation's fourth largest carrier.
contains some of the worst unemployment in the state
. Consumer Cellular has call centers in Phoenix and one at corporate headquarters in Portland. T-Mobile laid off the workers
as part of a corporate-wide shuttering of 7 call centers
(including the one in Redmond) and 3,300 workers were given pink slips. The carrier has since laid off a further 900 workers.
Consumer Cellular offers handsets ranging from the $35 Motorola WX345 to the Motorola Bravo for $175. Plans run as low as $10 a month and there are no contracts to sign.
source: ConsumerCellular via
AllThingsD