Compare the size of the Apple iPhone 6 with the Apple iPhone 5
41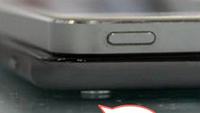 The
Apple iPhone 6
is rumored to carry a 4.7 inch screen. That is up from the 4 inch screen that debuted with the
Apple iPhone 5
. Prior to that, Apple's iconic smartphone had a 3.5 inch screen,
which Steve Jobs felt was the perfect size for one handed use
. When even mini versions of Android flagships started hitting 5 inches, iPhone users were getting restless about a larger screen for their pride and joy.
To show you the difference between the Apple iPhone 6 and the Apple iPhone 5, images show the two phones in various poses, showing off the larger size of the new model. The photos also let us see how much thinner the iPhone 6 will be. Other changes include the rounded corners, and the now infamous protruding camera on the Apple iPhone 6.
With the upcoming 4.7 inch version of the iPhone, the power button is moved from the top of the phone to the side, making it easier for those with smaller hands to reach. The round volume rockers have become elongated buttons, and the bottom of the phone now shows one single row of speakers, compared to the previous two double rows. This is interesting because a picture allegedly revealing the Apple iPad Air 2, shows
Apple doing something similar to the tablet's two double rows of speakers
on the bottom of the slate. Instead of twin double rows of speaker holes, the iPad Air 2 has twin single rows. This might confirm earlier speculation that the iPhone 6 would take its design cues from the iPad Air 2, and
might even be called the Apple iPhone Air
.
Check out the different look between the Apple iPhone 6 and the Apple iPhone 5 by clicking on the slideshow below. And we'd be remiss if we didn't suggest opening the kitchen cabinet, and pulling out some salt to take these pictures with.
Thanks for the tip!
source:
Yaya888
(
translated
) via
gizmobic