Christmas week saw 50 million iOS and Android devices activated and 1.76 billion apps downloaded
2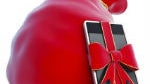 We already saw last week that Christmas day was a huge one for mobile device activations with a whopping
17 million devices activated
on that day alone. Well, Flurry has decided to give out the stats for the entire Christmas week, and it was a record breaking week which saw 50 million iOS and Android devices activated and 1.76 billion apps downloaded around the world.
Flurry claims that because of the number of apps that it is in, it can "detect over 90% of all new devices activated each day" and "reliably estimate total iOS and Android downloads", and Flurry has been a pretty reliable source. According to the newest numbers, Christmas week this year saw a 65% jump in app downloads compared to the weekly average for the first 2 weeks of December.
What's more, Flurry is predicting that billion app download weeks will become the norm in 2013, and that there will be a week in Q4 2013 (we'll bet on Christmas week) when app downloads will crack the 2 billion mark. Unfortunately, Flurry doesn't break down the numbers more than that, so we'll have to wait for Google and Apple to announce their numbers before we get a sense of how those 50 million devices shake out.