China Telecom to launch iPhone by the end of the year?
0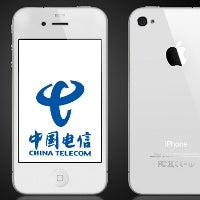 The third-largest Chinese carrier, China Telecom, is
planning to offer the iPhone
to its nearly 106 million subscribers by the end of the year, according to a source quoted by Reuters.
"It's expected to happen this year. China Telecom already has the required technology and it all hinges on content of the agreement. As we all know, it's not easy to negotiate with Apple,"
the source said.
Another anonymous source narrowed it down to
November
. But it was in May when China Telecom's chairman Wang Xiaochu said that the carrier was in talks with Apple over a CDMA iPhone.
Last month, reports claimed that
China Mobile might offer the iPhone
to its
over 610 million subscribers
. With those huge numbers, it's no wonder why the most populated country in the world is among Apple's top priorities. The company is planning to expand its stores further in China. To put the subscriber count in perspective, China Telecom's 106 million base is more than Verizon or AT&T's nearly 90 million.
Earlier, engineers have reportedly managed to activate a Verizon iPhone 4 on China Telecom's network, with limited testing to have started in June, making a November roll out possible. Investors have swiftly reacted to the report as the carrier's stock grew 5% shortly after.