Check out two official cases that will be available for the BlackBerry KEY2
9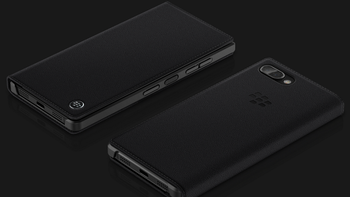 Just because the
BlackBerry KEY2
will sport a chassis made with Series 7 aluminum, it doesn't mean that you shouldn't trick out your new handset with a case. And while the accessories page on the BlackBerry Mobile website is just showing us the ol' 404 error message for now, it appears that someone was able to grab some information about a pair of official cases for the handset before TCL removed them from the site.
One case that will be offered by BlackBerry Mobile for the
KEY2
is a Soft Shell case. Made with soft-touch just like the back of the phone, this case should offer some protection from those butterfingers moments that result in your new KEY2 bouncing off a concrete sidewalk. However, this case protects only the phone's corners and its back. It will support NFC, which will allow your phone to use Google Pay even if you have the case on.
The Flip Case offers both back AND front protection from your clumsiness. Inside there is a double card holder to store your credit cards, driver's license and business cards. Made of leather, it will allow you to employ NFC while keeping your vegan friends from asking to see your new phone.
We have a feeling that we won't get any pricing or information about availability for the states until TCL releases the U.S. launch date for the KEY2. As soon as we hear about this information, we will be more than happy to pass it on to you. Meanwhile, check out the press images of the Soft Shell and Flip Case for the KEY2 by clicking on the slideshow below.