Check out Samsung's high-end Android flavored clamshell wearing Rose Gold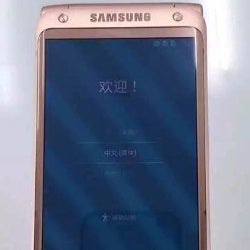 Samsung's high-end Android powered clamshell phone, the SM-W2017, has plenty of features that you probably never thought you'd see with this form factor. We're talking about things like a fingerprint scanner, heart rate monitor, back and front-facing cameras, a powerful Snapdragon 820 chipset, 4GB of RAM and 64GB of flash memory. In addition, the phone sports a Type-C USB port, and support for Samsung Pay.
We've seen the phone in Gold
, and today images have surfaced of the device dressed in Rose Gold. Even though Samsung has yet to officially introduce the SM-W2017, there is talk that the device has been spotted at some Huaqiang Bei retail outlets in China. Rumors have the phone priced at an outlandish $1,500 USD.
We don't expect Samsung to offer this model outside China, although we would expect that there is some demand for a high-end Android powered clamshell in the U.S., even if just for nostalgic reasons. The SM-W2017 melds yesterday's popular form factor with the capabilities available from today's smartphones.
Click on the slideshow to see the SM-W2017 dressed up in Rose Gold.
source:
Playfuldroid