Car and desktop docks for the Nexus One coming soon
1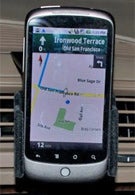 out and about for some time
now, but unfortunately the dock station for the device is still nowhere to be seen. Still, we know such will come, judging by the connectors at the bottom of the smartphone. Today some good news appeared on the matter, going the Bluetooth desktop dock that we saw
get through the FCC
last month may become available real soon, and that's official. The information comes from the official Nexus One support page, where a user has inquired about when the additional accessories will come. Then a Google employee has answered the following:
"The docking stations for Nexus One are not available at this time. Stay tuned though, they should be available soon."
Yes, you heard that right, the "docking stations", because there will also be a car dock, which will be usable with the Car Home application of the HTC Nexus One. And that is also officially described in the online user's guide:
"You can use Car Home whether or not you have a Nexus One car dock (coming soon)."
So there you have it, not one but two docks are obviously coming soon!
HTC Nexus One Specifications
|
Review
source:
Nexus One support
,
more
via
AndroidCommunity