Google Phone announced, meet the Nexus One
45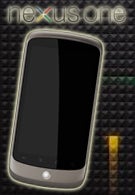 leaks on the matter
, it was well-known that Google is to hold
an event today
. It was also believed that the company, which brought you Android is about to introduce the so-called Google Phone, or the
HTC Nexus One
– a high-end Android-powered smartphone. However, we'll jump right to the point, as we're sure you are
already acquainted
with what the Nexus One is all about (unofficially, of course).
All the hype about the Nexus One has reached its climax today on the event, as after a short retrospection, the handset is now official. Alright then - Hello, Nexus One, we've been expecting you…
The Nexus One is introduced by Google as the next step in Android evolution and the hardware found on it is really impressive to say the least. As it was rumored, it packs a giant
3.7-inch AMOLED
touchscreen with a resolution of 480x800 pixels. The handset is also featuring the snappy Snapdragon chipset with a processor, clocked at
1GHz
. That is truly the most powerful Android handset to date. In addition to the screen, the front also has a multicolor trackball for navigation, which will obviously shine in different colors, depending on the event. The back of the Nexus One houses the
5MP camera
with LED flash – nothing spectacular really. One nice option is that you can have the lower bezel on the back custom-engraved.
So what about the software? Do not expect any game-changing stuff from Nexus One's
Android 2.1 OS
. You do get 5 homescreens and all specific features the
DROID
has like Google Maps Navigation, Facebook integration and so on. Google Earth for Android was also demoed on the event, but will be available later.
Of course, there are some graphical tweaks in the interface, including animated wallpapers and an enhanced gallery that can now automatically form your albums by date, time and location. It will also be able to sync your photos with Picasa. There seem to be some under the hood software changes too, as Android is said to have gotten a
new 3D framework
. Time will tell if that will allow for some more complex apps.
Another novelty in Android 2.1 is that every text field is voice-enabled, meaning you can just speak and that SMS will appear on-screen. The feature seemed to work just fine when demoed on the event.
So, how will the "Google Phone", HTC Nexus One be distributed – through Google's web store. Fortunately, you can order it with, or without contract on
T-Mobile USA
starting… today! Unlocked price is $529, which will allow you to use it with AT&T as well, but without 3G. Sticking with the locked version for T-Mobile will cost you
$179
for the Nexus One and a two-year contract. Keep in mind that
Verizon
will be getting the Nexus One, starting this Spring, and so will Vodafone.
You can purchase the HTC Nexus One
here
.
HTC Nexus One Specifications
source: Google,
Gizmodo
*Update:
Here are some other variants when buying the HTC Nexus One with a T-Mobile service:
Nexus One with new, 2-year T-Mobile US service plan for qualifying existing T-Mobile customers who are adding data plans: $279
NexusOne with new, 2-year T-Mobile US service plan for qualifying existingT-Mobile customers who are upgrading their data plans: $379