Buy the Google Nexus 6P from Huawei and get $50 off the Huawei Watch
3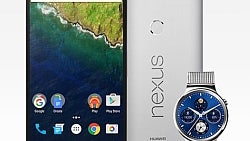 If you're interested in the Huawei-made Google Nexus 6P but are also actively investigating the Android smartwatch market, then Huawei has got a small treat for you. The company is now offering a $50 discount on the
Huawei Watch
, one of the hottest Android Wear smartwatches currently around, to all of those who purchase the
Google Nexus 6P
through the GetHuawei.com US web store.
Note that this promotion is not available through Google's own Nexus store. Oh, and if you've already purchased the Google 6P from Huawei, then it's not too late to take advantage of the promotion. If you've been holding out on purchasing the Huawei Nexus 6P but you want to get the discount, just add both the handset and the Huawei Watch to the cart on the company's web store and the $50 price cut will be automatically applied.
Most Nexus fans are well accustomed to the Huawei Nexus 6P by now, but just in case you need a refresher, the phone comes with an aluminum build, a 5.7-inch AMOLED display with a resolution of 1440 by 2560 pixels, a Qualcomm Snapdragon 810 chipset, 3GB of RAM, and a 12MP primary camera. For much more details on the phone, make sure to head on over to our full
Google Nexus 6P review
.
Unfortunately, it should be noted that Huawei's current shipping estimate for the Nexus 6P is "early to mid-December", which would translate into more than a month of waiting if you're tempted in ordering the phone right away. As a side note, it's worth mentioning that the Huawei 6P and the Huawei Watch will jointly add up to $1000, which is roughly how much Apple is currently asking for the 128GB version of the
iPhone 6s Plus
.
What do you guys think of Huawei's promotion? Is a $50 discount on the Huawei Watch enough to get you interested in what's arguably the most stylish Android Wear device to date?