Buy a Moto Mod from Verizon and get the Insta Share Projector Moto Mod free
1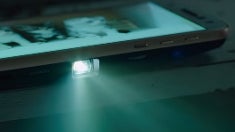 How would you like to get a $299.99 Moto Mod for free? Verizon has a deal going on involving the modular accessories that stick to the back of the Moto Z and Moto Z2 series handsets. Purchase any Moto Mod from Big Red and get the Insta Share Projector Moto Mod for free. The latter is usually priced at $299.99. Considering that you can get a Moto Mod for as cheap as $39.99, this is actually a very good deal.
The Moto Mods available on Verizon's web site include the following:
Hasselblad True Zoom Camera Mod ($249.99)
Style Pack Moto Mod ($39.99)
SoundBoost2 ($79.99)
InstaShare Printer ($199.99)
Moto 360 Camera Moto Mod ($299.99)
Moto Gamepad Moto Mod ($79.99)
Smart Speaker with Amazon Alexa Moto Mod ($149.99)
Moto TurboPower Pack Moto Mod ($79.99)
Out of stock are the SoundBoost Moto Mod, juice Pak Battery Mod, and the Style Shell Moto Mod. While the Insta Share Projector shows as also being out of stock, reportedly there is enough of them left for Verizon to meet its obligations.
The Insta Share Projector Moto Mod projects images from your Moto Z screen on to a flat surface, while blowing up the image to as high as 70-inches.

source: Verizon via AndroidPolice