Bloomberg reaffirms iPad mini October release
9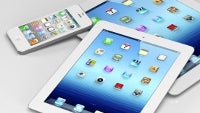 The iPad mini will be released in October with a 7.85-inch screen, smaller than the 9.7-inch one on the original iPad, according to Bloomberg who got another confirmation from four different sources in the know.
The smaller display will be made by AU Optronics, the company making the screens for Apple MacBooks and Sony television sets, but so far with no experience in making screens for mobile devices. LG Display will be the other company making the 7.85-inch displays.
Rumors agree that the 7.85-inch screen will not be a Retina display, but rather feature the resolution of the original iPad which is 768 x 1024 pixels. The display makers and Apple denied official comments on these latest whispers.
Recommended Stories