BlackBerry seeks to block U.S. sales of Typo
8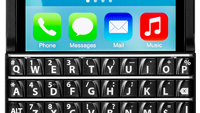 You know the story by now. Radio and Television personality Ryan Seacrest carries two phones. His BlackBerry is deployed when he needs to tap out email and texts. His Apple iPhone is used for, well, everything else. Favoring the latter phone, he comes up with the idea for a snap-on physical QWERTY for the iPhone called Typo, which would have been a perfect idea, except for the fact that the QWERTY looks too much like the one on the BlackBerry Q10.
BlackBerry has now filed with the U.S. District Court for the Northern District of California seeking to block U.S. sales and imports of the accessory, calling it "
an obvious knockoff
". The filing was made late on Wednesday.
Typo has already sold out its initial inventory
thanks to strong demand on the back of
some positive reviews
of the product. Typo costs $99 and works with both the
Apple iPhone 5s
and
Apple iPhone 5
.
BlackBerry is claiming that Typo infringes on U.S. Design Patent 685,775 for the design elements of a "handheld electronic device" and U.S. Patent 7,629,964 which covers "an electronic device with keyboard optimized for use with the thumbs." In its filing, BlackBerry mentions interviews where Seacrest said the idea for Typo came from his desire for a BlackBerry style typing experience combined with everything else that the iPhone has to offer. The Canadian manufacturer also threw in some reviews where the product's resemblance to a BlackBerry QWERTY was mentioned.
Typo's responded by saying that BlackBerry's case has no merit. It was the same exact thing that
Typo said in response to BlackBerry's original suit
against the company, filed within days of the accessories unveiling.
source:
CIO
via
Crackberry
Recommended Stories