BlackBerry presents new Messenger client?
2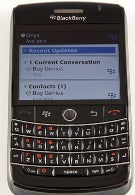 It has been some time since RIM has updated the BlackBerry Messenger client. We can assume that they spent some of this time working hard to produce this new, updated version. While the new Messenger has not yet been released for pubic use, the expected new functions and upgrades revealed through leaked photos make it a very useful and powerful tool for BlackBerry users.
Some of the changes include the ability for you to control settings that allow friends and family to either know your location at all times, have to request to see it every time, or never see your location. A proximity sensor will most likely be a setting that allows you to know when you are within a set distance of someone with whom you are sharing information freely. With the new Messenger, you should be able to use the camera or a saved photo to create a personal avatar. Your avatar will not only show up on your own device, but will also appear next to your name on your pal's buddy list. Conversations will be able to be organized by subject so that they become easier to store and keep track of. And you will be able to place contacts on your home screen in order to get in touch with your friends quicker.
No word when the new Messenger will be released to the public, but you can bet there are plenty of 'Berry fans just waiting to get their fingers working on the new client.
source:
BGR