BlackBerry in talks to license its version of Android called "BlackBerry Secure"
28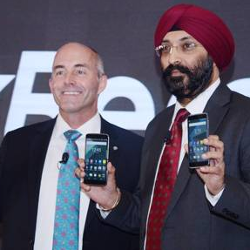 According to a report published today, BlackBerry has started the second phase of its licensing strategy. The first part was to sign licensing deals
that allow other companies like TCL to design, produce, deliver and promote BlackBerry handsets
. Under this plan, BlackBerry provides the software for phones like the
DTEK60
and the
BlackBerry KEYone
while TCL handles the hardware.
The second phase also involves licensing. BlackBerry is in talks with global smartphone manufacturers to provide them with its secure version of the Android OS. The software is called
BlackBerry Secure
, which comes with all of the security features found in an Android-flavored BlackBerry smartphone.
In India, BlackBerry already has a deal for BlackBerry Secure with Optiemus. This is the company that
recently launched in India the limited edition BlackBerry KEYone in black
, with 4GB of RAM and 64GB of native storage. Optiemus also has a 10-year hardware license with BlackBerry covering India, that is similar to the pact that both TCL and BB Merah Putih signed. The latter can use the BlackBerry name in Indonesia only, while TCL's license covers the rest of global market.
BlackBerry executive Alex Thurber says that India could be a huge market for BlackBerry Secure. He says that BlackBerry is very focused on the region as consumers there are becoming more interested in privacy, which could help drive more sales of BlackBerry smartphones powered by BlackBerry Secure.
"We have already started talking to a couple of medical manufacturers. John Chen [BlackBerry CEO] had also talked about TVs - there is an amazing amount of products that run Android and since we are able to make a very secure Android, we think there are a lot of opportunities. We have a very specific plan and we are working to that plan. (The) Indian market is very exciting and competitive. With huge potential users in the subcontinent, it's the market we are very interested in. Consumers in India are becoming more aware of privacy, which could help drive BlackBerry smartphones."-Alex Thurber, Senior Vice President, General Manager, Mobility Solutions, BlackBerry
source:
ETTelecom