TCL to design, manufacture, sell and support all future BlackBerry handsets
62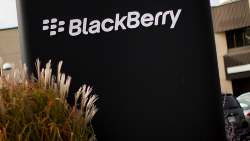 Washing its hands of the hardware business entirely, BlackBerry announced today that it has entered into a licensing agreement with TCL. BlackBerry will license its security software and service suite along with the BlackBerry name, logo and all brand assets, to TCL. The latter will now design, manufacture, sell and handle customer service for all BlackBerry handsets moving forward. BlackBerry will continue to supply TCL with the software, and TCL will have a dedicated sales team distributing new BlackBerry handsets globally.
The last two BlackBerry branded phones were re-branded versions of TCL handsets. The mid-range
BlackBerry DTEK50
is actually the Android flavored
Alcatel Idol 4
, with BlackBerry's software inside. The high-end
BlackBerry DTEK60
is based on the TCL 950
. Today's announcement basically expands on the dealings that allowed the DTEK50 and DTEK60 to be launched. Alcatel is a joint venture between TCL and Alcatel-Lucent.
"This agreement with TCL Communication represents a key step in our strategy to focus on putting the 'smart in the phone' by providing state-of-the-art security and device software on a platform that mobile users prefer and are comfortable with. TCL Communication is the natural choice to license BlackBerry's software and brand on a global scale. We successfully partnered with them on the DTEK series of secure smartphones and we've been impressed with their excellence in hardware design, development and manufacturing. With our unparalleled expertise in mobile security and software and TCL Communication's vast global reach and consumer access, we are confident that BlackBerry-branded products developed and distributed by TCL Communication will address the needs of BlackBerry users and expand the availability of BlackBerry Secure products throughout the world."-Ralph Pini, Chief Operating Officer and General Manager, BlackBerry Mobility Solutions"
Meanwhile, BlackBerry CEO John Chen had promised BlackBerry fans that the company would produce one more home grown handset with the iconic BlackBerry physical QWERTY on board. The press release announcing the deal with TCL doesn't make mention of this phone,
which has been given the code name of BlackBerry Mercury
.
source: BlackBerry
Recommended Stories