BlackBerry app HulloMail adds functions and improves usability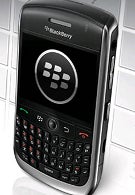 Available for free at BlackBerry App World, HuloMail is an application that allows two 'Berry users to send each other short, digital audio messages for free, with no phone charges or minutes used. The service, currently available in the U.S. and the U.K., allows a pair of BlackBerry owners to continue a conversation for hours, going back and forth with the service, incurring no cots and using up zero minutes. To improve the function of the application, HulloMail has added Push Notification and auto downloading of messages. The improved version of the app (version 1.1.1) eases the use of the service and incorporates new digital messaging capabilities. The new version will show off new enhancements to both performance and the feature set.
As soon as it appears in their mobile app, users can play a received Hullo and need only the recipients email address to send out a message. New enhancements allow the service to work with headsets or bluetooth systems. HulloMail offers unique message syncing capabilities with GMail, MobileMe and Microsoft Exchange. For those who spend hours a day talking to a fellow BlackBerry user, HulloMail could be a great way to save your minutes for other calls. And with the new Push Notification, the back and forth flow of messages will seem more like a real time conversation.
source:
HulloMail