BlackBerry Priv could be priced in the neighborhood of $780 USD in India
74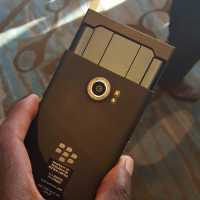 Comments made earlier by BlackBerry CEO John Chen about the
BlackBerry Priv
, confirmed that the Android powered slider is going to be rather pricey. Chen said that the Priv is a high-end phone, and that BlackBerry might have to offer some type of installment plan for buyers. Over at Carphone Warehouse in the U.K.,
where the device is available to be pre-ordered
, the Priv is offered unlocked for the equivalent of $897 USD.
A look at the Zauba import/export site in India, reveals that four BlackBerry Priv units were recently shipped into the country for testing and evaluation. And the value of each phone was listed at the equivalent of $780 USD. While this doesn't necessarily tell us exactly how much the Priv will retail for in India, it does give us a rough idea of how the slider will be priced.
BlackBerry has captured the attention of many who never gave any of the manufacturer's previous handsets a single glance. Now, that these phone buyers are considering a BlackBerry for the first time, it would be a shame if the company priced the phone out of the reach of these consumers.
We continue to await BlackBerry's official unveiling of the phone. When it does take place, we are sure to be told the pricing of the phone as well as availability. There are many who are looking at using the Priv as their daily driver as long as the price is right.

The BlackBerry Priv is imported into India, valued at $780 USD
via:
TimesNews.co.uk