BlackBerry PlayBook Unboxing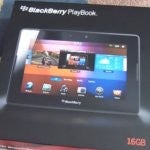 Despite the
tumultuous atmosphere
surrounding their smartphone business, RIM is full steam ahead in the tablet world as they embark on a new voyage with their "professional tablet" in the
BlackBerry PlayBook
. Going on sale starting on
April 19th
through a variety of retailers, you can expect to fetch one for as low as $500 for the 16GB Wi-Fi only model.
Much like many other compelling gadgets, we're always filled with joy and anticipation when receiving something that's different from the norm – and it's most certainly true with this one. For something g that's regarded as being compact and manageable, thanks to its 7" touchscreen, we're surprised to say the least that there is a good amount of packaging material needed to keep the prized tablet at bay. And rightfully so, our attention is placed squarely on the accurately life-sized image of the colorful PlayBook gracing its retail box, while in the rear, it simply breaks down the contents and requirements.
Inside, we're treated to usual culprit of included accessories – such as the microUSB cable, wall charger, and packets of documentation. However, we're glad to see that RIM has somehow also included a
neoprene like slip cover
to perfectly envelop the tablet as you carry it around. Moreover, they also package in a
microfiber wiping cloth
for good measure to keep its 7" display shiny and new – albeit, we do adore its choice of utilizing a soft touch rear cover to better repel debris.
Turning on this bundle of joy for the very first time, some might be shocked to find that you won't be able to get right into the device without
connecting to a Wi-Fi hotspot at first
– which is clearly stated in the back of the box. And if you haven't used a BlackBerry device beforehand, you'll still need to sign up to get a
BlackBerry ID
. And once that's all squared away, we're finally able to experience the entirely new QNX based platform. Check out the video below to see all the ceremonial unboxing experience.