BlackBerry PlayBook prices start from $500: pre-order it today, get it from April 19th
8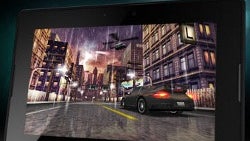 You cannot complain that CTIA startedslow, can you? While RIM's BlackBerry PlayBook wasn't announced atthe show, it's one of the most anticipated tablets featuring theunique QNX-based BlackBerry Tablet OS – all for $499 for the most basicversion. Pre-orders for the 7-inch PlayBook begin today at Best Buy, but wideravailability is scheduled for April 19th when the tablet will hit Best Buy stores in the US and Canada. Otherretailers such as Staples, Office Depot and RadioShack are also tosell the tablet. Carrier availability includes AT&T, Sprint andVerizon, but not T-Mobile, which is well on its way to becoming AT&T.
Oh, and so much for those early rumorsabout a $399 price tag! But hey, RIMkept their promise and the price is actually less than $500 by asingle penny. This will buy you 0.9lbs (425g) worth of a tablet with a 1GHz dual-core chipset with 1GB of RAM, as well as full HD video recording thanks to the 5-megapixel camera on the back. Prices for different models Wi-Fi-only models are as follows:
16GB..........$499.99
32GB..........$599.99
64GB..........$699.99
What's interesting also is that thePlayBook page on their website greets you with the "It's game on"slogan of the tablet. Not very business oriented, isn't it? But itnevertheless suits the PlayBook part of the tablet's name and indeed the tabletseems gaming oriented with NFS Undercover and Tetris obviouslyrunning smoothly. But business should also be well covered as is thecustom in RIM. For once, the tablet sports a 3-megapixel front-facingshooter, perfect for video conferencing. Oh, and it supports Flash.One thing we hear nothing about is the expected support of Androidapps, but we hope to see the tablet at CTIA and bring you all the additional details soon.

source: RIM and Best Buy (pre-order)