RIM co-CEO Mike Lazaridis is taking BlackBerry's struggles very personally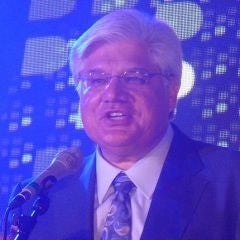 When you care for something, whether it's the car in your garage, or a large corporation, you're going to take its successes and failures personally. But there are appropriate times for emotion, and widely publicized interviews are not those times.
Mike Lazaridis
, co-CEO of
RIM
, is starting to show serious frustration.
In an interview with the
New York Times
, Lazaridis became frustrated with the interviewer's doubts:
"Why is it that people don't appreciate our profits? Why is it that people don't appreciate our growth? Why is it that people don't appreciate the fact that we spent the last four years going global? Why is it that people don't appreciate that we have 500 carriers in 170 countries with products in almost 30 languages?"
We're not doubting any of these accomplishments, but an experienced professional like Lazaridis should know a better way to present them. Any company, especially one that is publicly traded, needs to be questioned. If investors and critics didn't ask the hard questions, corporate communication would be nothing more than a hollow series of press releases.
And again, in an interview with the BBC, Lazaridis showed his frustration. When technology correspondent Rory Cellan-Jones brought up the issue of RIM's problems in
India
and the
Middle East
, Lazaridis declared it an unfair question, and ended the interview prematurely. It wasn't like he was doing some fluff piece for a trade magazine. He was with the BBC. So what did he expect?
Lazaridis' primary concern is probably for the shareholders' impressions of RIM's success. While they still hold a significant share of the global smartphone market, they are obviously falling behind competitors like Google and
Apple
. But the last thing RIM needs is their leader getting defensive in widely publicized interviews. That defensive reaction only confirms suspicions that RIM is falling behind.
source:
BBC
via
Gizmodo