BlackBerry PlayBook OS 2.0 update now available
10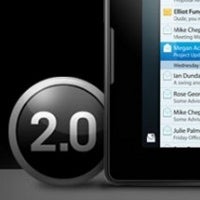 RIM has finally released
BlackBerry PlayBook OS 2.0
- the biggest update to its tablet operating system bringing much needed improvements like the addition of a native email client, social networking integration as well as nice perks such as the option to use your tablet as a remote control.
One notable new feature is the possibility to
install Android applications
, and even some of them will end up recoded for the BlackBerry App World.
Now, the original PlayBook OS took a couple of weird shortcuts like not including
native email
client. In order to get to the contents of your mailbox, you'd need to tether the tablet to a BlackBerry smartphone - a ridiculous decision that made the PlayBook look less like an independent product and more like an addition to a BlackBerry smartphone.
The new version of the QNX-based operating system finally fixes that, and packs plenty of features that bring it almost on par with Android and iOS. There's a new keyboard which better predicts what you're typing, and Facebook, Twitter and LinkedIn are baked in.
BlackBerry Bridge
now allows you to use a BlackBerry handset to remotely control the PlayBook tablet, but chances are that RIM has taken this further and you can use your 'Berry to control any tablet via Bluetooth.
RIM has posted a thorough guide on the update process, so make sure to hit the link below for all the details.