BlackBerry Passport Silver Edition now available in the U.S.
33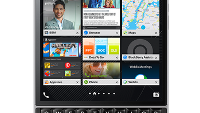 The
BlackBerry Passport
Silver Edition is now available in the U.S.. As we pointed out to you yesterday,
there are some subtle and not so subtle changes
made to the original model of the phone. First, a new reinforced stainless steel frame has been added to the device. And a diamond pattern soft touch back is now included. In addition, the dimensions of the phone have changed with the new Silver Edition. The latter measures 131mm x 90.5mm x 9.25mm vs. the OG Passport's measurements of 128mm x 90.3mm x 9.3mm. The AT&T version of the phone measures 131mm x 90.5mm x 9.3mm.
The BlackBerry Passport Silver Edition is available from BlackBerry, unlocked, for $549 USD. There is no support for Verizon, Sprint and U.S. Cellular bands. The phone supports FD-LTE: 1,2,3,4,5,7,8,13,17,20 HSPA +: 1,2,4,5/6, 8, EDGE.
Buy the BlackBerry Passport Silver Edition through August 19th from BlackBerry, and you'll receive accessories for free valued at over $130. That includes a Sync Pod ($34.99 Value), Leather Flip Case ($59.99 Value) and a Leather Flex Shell ($39.99 Value).
BlackBerry has improved the Passport both inside and out. If you told yourself that you would never look at BlackBerry again, you might only be hurting yourself by not giving the Wide Worker another look.
source:
BlackBerry