BlackBerry Motion launches in the US on January 12
41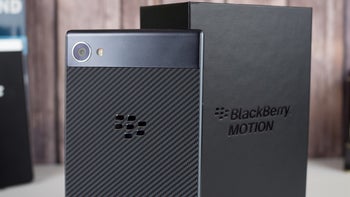 BlackBerry Mobile and TCLtoday announced the upcoming US availability of BlackBerry Motion - the very first dust- and water-resistantBlackBerry-branded smartphone.
Previously available only in select markets (including up north in Canada), the BlackBerry Motion will be releasedin the USon January 12 - this Friday. The handset will be sold unlocked via Amazon andBest Buy for $449.99. This is a GSM/LTE variant of the Motion, whichmeans you'll be able to use it on AT&T and T-Mobile, but not on Verizon,Sprint, and US Cellular.
Apart from dust- and water-resistance, the BlackBerry Motionoffers a suite of pretty nice (though not exactly high-end) specs, includinga 5.5-inch 1080p scratch-resistant screen, an octa-core Snapdragon 625 processor, 4 GB ofRAM, and a generous 4,000 mAh battery. In our BlackBerry Motion review - which youshould definitely read - we noted that battery life was one of the phone's highlight features.
When it finally launches in the US later this week, the BlackBerryMotion will run Android 7.1 Nougat out of the box. However, the smartphone will be updated toAndroid 8 Oreo sometime "later thisyear."
According to a previous rumor, the BlackBerry Motion could alsobe released via AT&T, Verizon, and Sprint. For now, though, there's noofficial information on this. Anyhow, let us know if you plan to buy theBlackBerry Motion in the USanytime soon, will you?
source: TCL Communications