BlackBerry CEO Chen talks to the White House, encouraging continued BlackBerry use
14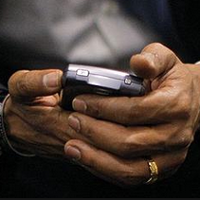 We've chronicled President Barack Obama's love affair with his BlackBerry
ever since he first won his first 4 year term as President
(or POTUS). Along the way, the Commander in-Chief has received an
Apple iPad 2
from the late Steve Jobs
, and said that
he is not allowed to use an Apple iPhone for security reasons
. Now, according to a report from Bloomberg, BlackBerry CEO John Chen has held talks with the White House to encourage the staff to stay the course.
The first BlackBerry CEO who actually has a pedigree in turning around a major company, Chen has met or talked with 100 customers and said that he spoke with the White House about "
some of the stuff they like and some of the stuff they would like us to work on
." According to White House spokesman Josh Earnest, the president's phone is not discussed publicly due to security issues. White House staff are given government issued BlackBerry models.
One other interesting tidbit from John Chen came when he told Bloomberg that he rather fancies the company's old Research In Motion moniker.
Former CEO Thorsten Heins changed the company's name to BlackBerry
when he unveiled BlackBerry 10 early last year. Chen did say that he hasn't given a thought to changing the name of the company back to RIM.
We wonder what the White House and the president would think about a
64 bit octa-core powered BlackBerry
.
source:
Bloomberg