Here's one more reason for becoming a president (hint: iPad 2 is involved)
20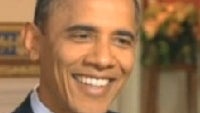 Some people work hard to get their iPad. Some even
sell their kidneys
(sadly, not kidding here). American Barack Obama became a president to get his one a bit early. Okay, now we're kidding, but fact remains that the US President got his iPad 2 directly from Apple's CEO Steve Jobs, a bit early.
"Steve Jobs actually gave it to me, a little bit early. Yeah, it was cool. I got it directly from him,"
Obama said in an interview for ABC yesterday.
Just how early? We are going into guessing territory here, but one possibility is the
February
dinner Obama had with tech moguls including Apple's Steve Jobs, Facebook's Mark Zuckerberg and Google's Eric Schmidt.
With this in mind, we can safely say that Obama joins
Apple's "Presidents' club"
as back in June Russian president Dmitry Medvedev got the iPhone 4 from Jobs. One more reason to strive for a political career, we guess.