BlackBerry's 64-bit octa-core device may come in September, not 2015
48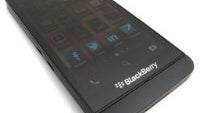 Recently, we heard that BlackBerry is working on a new flagship device that will feature a
64-bit octa-core
processor, and the initial rumors were that the device likely wouldn't be released until 2015. But, a new bit of information actually makes it sound like BlackBerry could release the beast of a phone as soon as this coming September.
The new information comes from a "trusted source" for
Pocket-lint
, so unfortunately it isn't something that we can verify in any way. The source also said that the device is "100%" going to have a 64-bit processor. The rumors have been saying that said processor would be the upcoming octa-core Qualcomm Snapdragon MSM8994 running at 2.5GHz per core. Additionally, it is said that the BlackBerry device will feature OpenGL 3, which should significantly improve graphics performance.
Of course, having an amazing processor and great graphics performance are a minor concern for BlackBerry, which has been consistently losing market share both in the consumer space, and in the enterprise space. New BlackBerry CEO
John Chen
has made it clear that while BlackBerry's Enterprise server software is his focus for bringing Blackberry back to relevance,
consumer devices
are still a focus for the company.
Recommended Stories