BlackBerry A10 leaks out, compared to Z10
4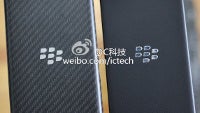 The
BlackBerry A10
codenamed Aristo is appearing in news now almost every day with leaked images from all sorts of places, but now we have the first look at
the new most powerful BlackBerry
compared to the 4.2-inch Z10.
Of course, the new A10 is much larger, but it also uses a different design aesthetic. The back plate of the Aristo carries the AT&T logo, which leads us to think it would be available on the nation's second largest carrier soon. A slightly thicker modification of the A10 is coming to Verizon Wireless as well.
Just recently, the
spec sheet for the A10 leaked out
and we now have more confidence in all the rumors. The technical details of the device include a 5-inch 720 x 1280-pixel display with 296ppi pixel density. The chip features a 1.7GHz dual-core Snapdragon S4 Pro with a whopping 2GB of RAM and 16GB of internal storage (expandable via up to 64GB microSD cards).
On the back there is an 8-megapixel main camera and under the back plate hides a 2800mAh battery.
Specs are not the main story about the A10, though. It is of course BlackBerry OS 10.2, the new operating system that comes with features like the hub that integrates information that in other platforms would only be accessible via separate apps.
At 5 inches, the A10 is definitely on the large side, matching the current crop of Android flagships.
How big it really is
and how does it compare with the Z10? For the answers to these questions take a look below.
source:
Weibo