BlackBerry Z30 Review
42
Introduction
With the largest screen of any BlackBerry phone so far, large battery, and good processor running the latest BB 10.2 OS, the
Z30
is the Canadians' undisputed flagship, taking the torch from the 4.2"
Z10
.
It also features a premium build with metallic accents, plus the awesome BlackBerry keyboard, but will those be enough to entice the ever-shrinking suit and tie target market of the company? Read on to find out...
In the box:
In-ear stereo headphones
Wall charger
microUSB cable
Warranty and information leaflets
Design
BlackBerry has done a pretty good job with the design of the Z30, introducing metallic accents, soft-touch plastic and solid build quality. Everything looks and feels fine, except the weight, which, at 6.00 oz (170 g), is rather heavy, if you are comparing with a typical Android flagship.
The side rim transitioning into a brushed metal plate underneath the display looks very good, though, and the heft and girth give the phone a solid feel in the hand. Moreover, the tapered back is covered with a nice soft-touch plastic in carbon fiber pattern that doesn't slip, making the phone sit very well in the hand. This back cover is removable, revealing a sealed battery compartment underneath, and a micro SIM slot on the left sitting on top of a microSD one.
The phone leaves a very ergonomic impression when handled – the power/lock key at the top, for instance, is situated right smack in the middle, where your index finger naturally resides. That button, and the volume keys on the right feel extremely solid, and have great, clicky tactile feedback. Even the small button between the volume ones that calls the voice assistant is very easy to feel and press without looking, with a prompting brushed metal notch on top of it.
Display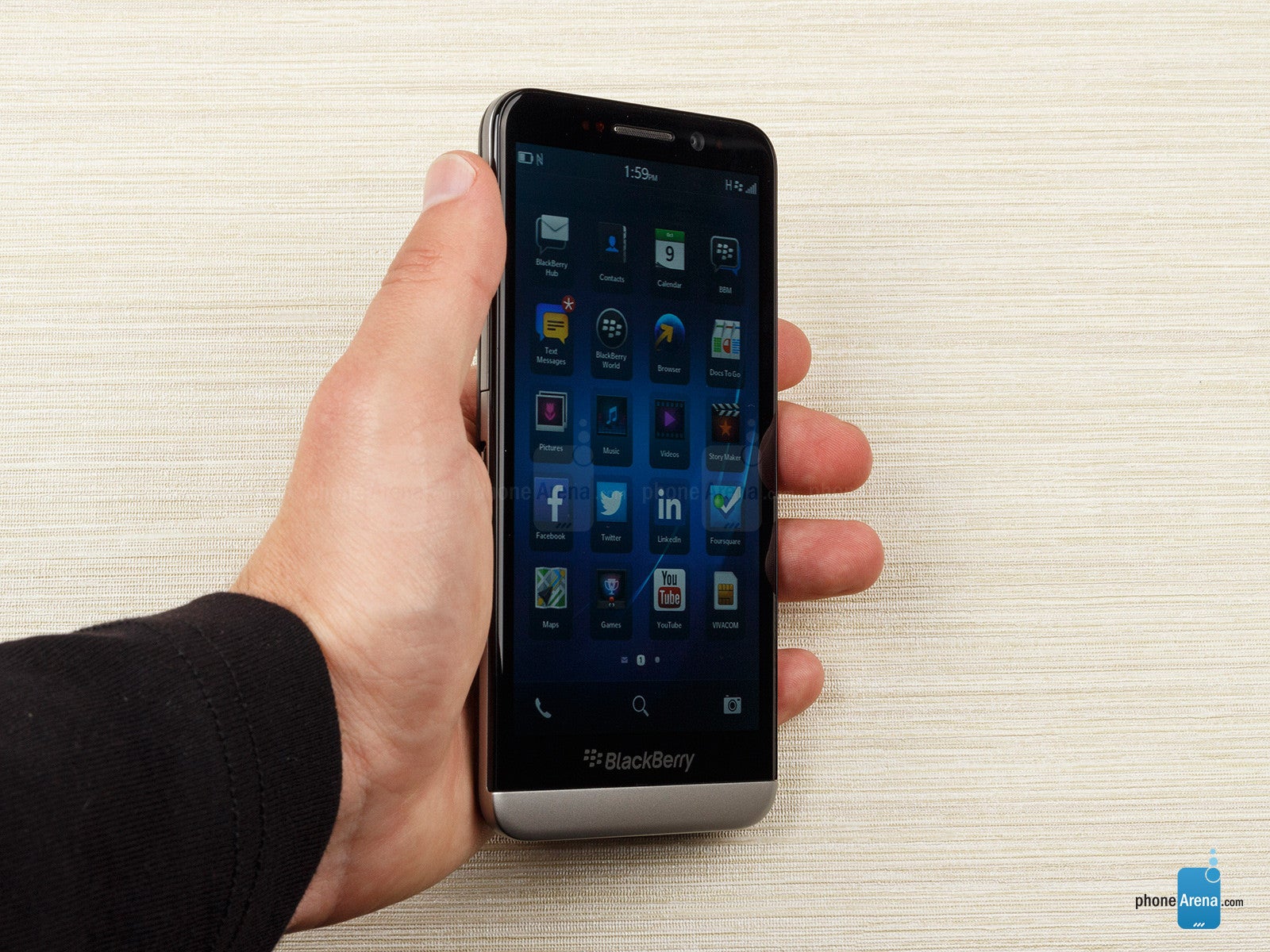 The vibrant 5" Super AMOLED display on the BlackBerry Z30 comes with 720x1280 pixels of HD resolution, which is lower compared to other platforms' Full HD flagships. BB 10 icons don't look jagged from normal distance with the 295ppi pixel density, and neither does text in the browser.
The display exhibits oversaturated, flashy colors, which make BB 10's painting scheme look rather appealing. The viewing angles, both horizontal and vertical, are excellent, as can be expected from an OLED screen.
Its brightness could be a bit higher, compared to some LCDs out there, but the anti-reflection coating on the Z30 is pretty good, and we had no trouble viewing the phone's screen outdoors, even in direct sunlight.
Display measurements and quality
Recommended Stories