BlackBerry: 85% of BES users rely on BB Messenger for secure conversations
2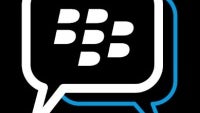 Today, BlackBerry boasted that 85% of BlackBerry Enterprise Server (BES)-enabled organizations also use its BlackBerry Messenger service (BBM). The Canadians explain the success with the elaborate security model established within BES and BBM. It allows the data in transit within an organization to be encrypted end-to-end, and it's designed to run from the CPU through the OS, file system, and the application level of the communication device.
Apart from BlackBerry OS 10, BBM is available for all Android 4.0 and up devices, along with iOS 6.0 and up devices as a free download from their respective app stores. As of October 2013, BBM has over 80 million users, with one-fourth of them running Android. BlackBerry Messenger will also come pre-loaded on some upcoming LG Android devices, namely the
LG G Pro Lite
. The mid-range phablet is said to offer an experience optimized for BBM, but it's unlikely that the device will be sold in the US.
Although BlackBerry's press-release is, essentially, an elaborate advertisement for its enterprise solutions, testimonies from high-profile customers such as AMJ Campbell, Canadian Diabetes Association, Mercedes AMG Petronas Formula One Team, and TD Bank Group prompt respect for the distressed company. While news of its
leaving executives
and financial struggles have now become part of the norm, BlackBerry's software solutions still command a strong presence in the enterprise sector.
"
Mobile instant messaging in the enterprise as a priority application has to be implemented with a view to meeting compliance, privacy and security standards. BBM for use in regulated environments has been designed to meet these demands.
" - John Jackson, Analyst, IDC
"
We are an organization with confidential information that needs to be shared reliably, securely and immediately, and we rely on BBM to make this happen.
" - Bruce Bowser, President, AMJ Campbell Inc.
"
Our teams need the ability to share important information through an instant and trusted channel. We choose BBM for our team mobile messaging communications. BBM is also our go-to for emergency situations where email would be unreliable, and is integrated into our business continuity plan.
" - Nigel Carpenter, CIO, Canadian Diabetes Association.
All of this makes us think that a scenario in which BlackBerry becomes solely an enterprise firm is very realistic. After all, corporate solutions and security was, and remains the Canadian company's strong hand.
source: BlackBerry via
CrackBerry