Bheestie Bags can save your phone when it is all washed up
2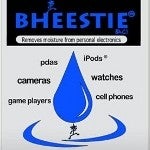 Once you have accidentally drenched your smartphone, protocal calls for you to
remove the battery and dry out the inside of the device
. If you purchased a
Bheestie Bag
, you could quickly start the drying out process, possibly in time to prevent major damage to your phone. The Bheestie Bag is not a new product, but for $20 it could offer a second chance at life for that smartphone that fell into the pool or got soaking wet in that non-stopping rain storm.
The bag contains pellets that absorb moisture. It's the same thing that those small packets of silica gel do inside a shoe box. You take your wet phone (a tablet won't fit in the bag) and remove the battery to prevent short circuits. You then dry down your phone, stick it in the Bheestie Bag, and seal it. Despite feeling like that itch you need to scratch, you are instructed not to open the bag from
24 to 72 hours
. And while many devices have come back from the dead using the bag, there are no guarantees. The company does say it works 700% better than using rice.
With the $20 price, a Bheestie Bag might be a good accessory to carry with you on that trip to the beach or the pool, or even if you plan on sitting in the "Splash Zone" at Sea World. For an investment that small, your reward could be the big bucks you will save by
not having to replace your drowned smartphone
. You can order your
lifesaver
Bheestie Bag at the sourcelink.
source:
Bheestie.com
via
RedmondPie