6 great smartphones from 10 years ago (2018 edition)
25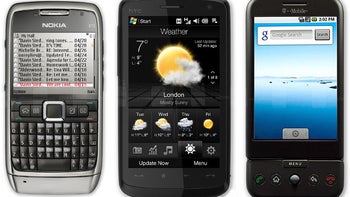 2008 was an important year in the world of smartphones. While the market was still ruled by operating systems that are now defunct (like Symbian and BlackBerry OS), new platforms were clearly providing glimpses of the future, with touchscreen devices starting to make a serious impact. Of course, there were still plenty of awesome handsets that didn't feature touch-enabled displays, but the wind of change was already blowing.
If you're feeling nostalgic, or just curious about what smartphones were cool a decade ago, we're inviting you to discover some of the greatest models released throughout 2008. Mind you, the handsets are listed below in alphabetical order, not chronologically.
If you have fond memories of other nice smartphones launched in 2008, don't hesitate to share them with us in the comments section below.
Believe it or not, Apple's original iPhone - released in 2007 - did not have 3G connectivity and GPS. Fortunately, Apple added these now ubiquitous features to the 2008 iPhone model, aptly called iPhone 3G. This was also the very first Apple device to provide access to the now-famous App Store (though only 500 applications were available at launch). Nevertheless, the iPhone 3G didn't differ much from its predecessor, offering a similar 3.5-inch multi-touch display with 320 x 480 pixels, up to 16 GB of internal memory, and a 2 MP rear camera. The overall design remained unchanged as well, although Apple replaced the dual-tone aluminum & plastic rear of the first iPhone with an all-plastic rear shell (available in either black, or white on the iPhone 3G 16 GB).
Presented by Apple as "the first iPhone to beat the iPhone," the iPhone 3G didn't revolutionize anything, but it was still one the most advanced smartphones of 2008. Like the original iPhone, the iPhone 3G was an AT&T-exclusive handset in the US.
A decade ago, Research in Motion (now simply known as BlackBerry) was a top handset maker, selling more smartphones than any other company in the US, with devices from the Curve and Pearl series being in high demand. To further expand its portfolio, in 2008, RIM introduced the BlackBerry Bold 9000. A high-end, premium smartphone that was bigger than any Curve or Pearl model, the BlackBerry Bold 9000 packed a larger full QWERTY keyboard (one of the best to that date), as well as a slightly larger display (2.6 inches, non-touch, with 480 x 320 pixels).
The Bold 9000 was the most powerful BlackBerry of its time - thanks to a 624 MHz processor - and ran a refreshed version of BlackBerry OS. Furthermore, the handset offered a combination of features never seen on a BlackBerry before, including 3G, Wi-Fi, GPS, and stereo speakers. All this made the Bold 9000 quite successful. By 2011, though, BlackBerry realized that the Bold series had no future next to all-touch iPhones and Androids, and eventually abandoned it.
Although Google publicly unveiled Android in November 2007, the first smartphone to run this (then new) software platform wasn't released until October 2008. Known in the US as the T-Mobile G1, and in other markets as the HTC Dream, the world's first Android handset was a somewhat awkward-looking device, offering a 3.2-inch, 320 x 480 pixels touchscreen display, a chin hosting four hardware buttons plus a trackball, and a slide-out QWERTY keyboard. Questionable design aside, the smartphone came with the promise of an open source OS integrating Google services like Gmail, Maps, and YouTube - thus contrasting with the closed, tightly controlled OSes of the time. For this reason, the arrival of the G1 was cheered by many technology enthusiasts.
Despite its shortcomings - including the fact that the screen didn't support multi-touch gestures, or that, at launch, text could be entered only via the hardware keyboard - by April 2009, 1 million T-Mobile G1 units were sold in the US. Now, 10 years after the release of the G1 / Dream, Android has over 80% of the global smartphone market share, while Apple's iOS grabs most of the remaining percentage. Everything else is basically irrelevant.
2008 was a very busy year for HTC. Besides collaborating with Google to create the world's first Android handset, the company was making its own smartphones - all running Microsoft's Windows Mobile OS, still in its golden years back then. One of these Windows Mobile devices was the HTC Touch HD, the first flagship phone that actually tried to beat the iPhone at its own game - that of having a large touchscreen display. The screen of the HTC Touch HD was bigger than the iPhone's, while also offering a higher pixel resolution: 3.8 inches with 480 x 800 pixels. However, this was a resistive touchscreen without multi-touch support, thus being less finger-friendly than the capacitive screen of the iPhone.
The HTC Touch HD was certainly a great piece of hardware for 2008, but it ultimately failed to be as good as an iPhone - perhaps mainly because of Windows Mobile, which, even customized with HTC's TouchFlo 3D interface, was simply unable to match the freshness and easiness of use of iPhone OS (later renamed to iOS). The Touch HD was also not officially released in the US, and many potential users stayed away from it because of this.
One of the history's greatest non-BlackBerry smartphones to have a full QWERTY, the Nokia E71 wasn't too expensive (costing around $450 off contract), and yet it offered a high-end user experience, as well as a nice metal body. While it was mainly a business-oriented handset, the E71 certainly had an appeal to regular consumers, too, as its Symbian UI featured two customizable home screens - one for business, and one for personal use (including quick access to music and video players, or private email).
The 2.4-inch, 320 x 240 pixels non-touch display of the Nokia E71 wasn't among the largest around, but still provided a nice viewing experience. With features like 3G, Wi-Fi, GPS, a speedy web browser, and Nokia Maps, the E71 had pretty much everything a serious smartphone user would have needed back in 2008.
Launched in mid 2008 (or in November 2008 on Verizon Wireless), the Omnia was one of the coolest Samsung smartphones made before the company started its extremely successful Android adventure. This was a Windows Mobile-based handset with a 3.2-inch, 240 x 400 pixels touchscreen display, a good 5 MP rear camera, and a pretty elegant design (the enormous bezels weren't a problem back then). The Ommia was also among the first Samsung smartphones to come with a TouchWiz interface, albeit a very early version of it that has nothing to do with the Android one we're seeing today.