5 great smartphones from 10 years ago (2017 edition)
26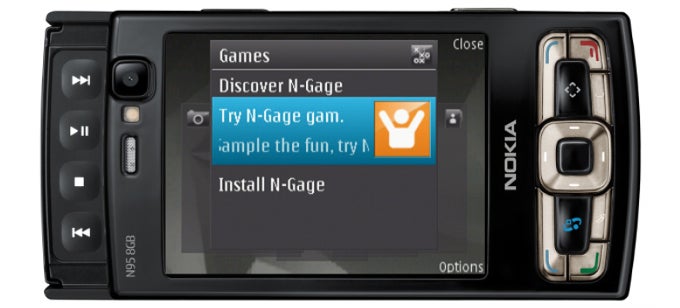 2007 was a very interesting year when it comes to mobile devices. Multiple GBs of storage space were slowly but surely becoming the norm for high-end phones, more connectivity options were being added, and, most important, touchscreens were about to become popular. Nevertheless, Nokia and Symbian were still leading the smartphone industry, as Apple's very first iPhone was just hitting the market, and Android was not yet ready for its commercial debut.
After reviewing the greatest handsets of
2004
,
2005
, and
2006
, we're now inviting you to join us in remembering some of the nicest and most memorable smartphones that were introduced throughout 2007. In case you're wondering, the smartphones are listed in alphabetical order, not chronologically.
If you have a favorite smartphone from a decade ago, feel free to let us know about it!
While it was announced by Steve Jobs on January 9, 2007, the original iPhone didn't hit shelves until half a year later, on June 29. This was the first (and last) time when an iPhone did not become available shortly after its announcement. Under development for over two years, the iPhone was envisioned as a 3-in-1 product: a widescreen iPod, a mobile phone, and a "breakthrough internet communications device." The handset became the world's first highly successful touch-only smartphone, as Apple sold more than 1 million units less than 3 months after launch. Like it or not, the iPhone seems to have represented a turning point in the history of mobile phones.
The original iPhone was praised for its user-friendly 3.5-inch multi-touch display with 320 x 480 pixels, plus its interface and multimedia/internet capabilities, while being criticized for the lack of features that other high-end smartphones already had (like 3G connectivity and built-in GPS). The iPhone was available in the US exclusively on AT&, first in 4 GB and 8 GB variants, then in 8 GB and 16 GB flavors.
In 2007, BlackBerry continued its consumer-friendly approach started in 2006 (with the BlackBerry Pearl series) by launching the BlackBerry Curve family, starting with the Curve 8300. Compared to BlackBerry's previous full QWERTY smartphones, the Curve 8300 had a nicer design and various multimedia features, including a 2 MP rear camera, music player, and stereo Bluetooth. Subsequent Curve models released in 2007 even had GPS (Curve 8310) and Wi-Fi (Curve 8320).
Succeeding the original TyTN from 2006, the HTC TyTN II was one of the best Windows Mobile handsets of its time. This was a pretty complete smartphone - besides the software features of Windows Mobile 6, it had stuff like 3G, GPS, Wi-Fi, and two cameras (rear and front). Plus, of course, the TyTN II offered a full QWERTY keyboard, and a tilting 2.8-inch touchscreen display with 240 x 320 pixels. Unlike today's touchscreens (or the one featured by the original iPhone), the display of the HTC TyTN II was resistive - that's why it worked best with the device's built-in stylus, and not with fingers.
The Nokia N95 was announced in September 2006, but it only hit the market starting March 2007. Seen by many as one of the best smartphones ever (regardless of OS), the N95 was the most advanced Symbian device of its era. As a top of the line Nseries product, the N95 offered all the best features that Nokia had in its arsenal in 2007. While it's true that the phone was quite bulky even for 2007 standards, its two-way sliding mechanism was pretty cool, revealing either a numeric keypad, or a set of multimedia keys.
Geeky (in a good way) design aside, the highlight features of the Nokia N95 included a 5 MP rear camera with Carl Zeiss lens and 480p video at 30fps, stereo speakers, all the connectivity options available in 2007, and 4 GB / 8 GB of expandable storage space. Users also had Symbian's multi-tasking capabilities at hand, plus many applications, including Nokia Maps. The 2.6-inch, 240 x 320 pixels display of the N95 was not touch-sensitive, but that wasn't exactly a problem back then. Perhaps the sole issue with the Nokia N95 was its rather poor battery life.
No images
Part of Sony Ericsson's Walkman series of phones, the W960 was a high-end Symbian handset aimed at multimedia buffs. The smartphone had a 2.6-inch, 240 x 320 pixels resistive touchscreen display (with stylus), touch-sensitive music keys, and a regular alphanumeric keypad. Other attractive features included 3G connectivity, Wi-Fi, a 3.2 MP rear camera with dual LED flash, and 8 GB of storage space (not expandable). This was arguably one of the nicest smartphones made by Sony Ericsson before the joint venture ceased to exist in 2012 (when Sony bought Ericsson's share and created Sony Mobile).