Best phones with front stereo speakers (2015 edition)
32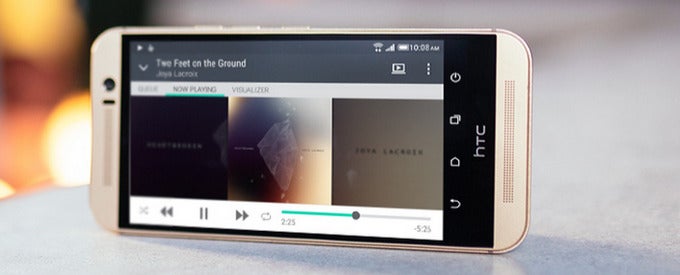 What's better than having a loud, clear-sounding speaker on your smartphone? Having a pair of them, of course. There's no denying that a nice set of stereo speakers on a phone's front take activities like watching movies, playing games, and, needless to say, listening to music, to a whole new level.
Sadly, well-made smartphones packing front-facing speakers are rather hard to come by. Or so it seems, as, after consulting with our vast cell phone database, we shortlisted a whole bunch of attention-worthy handsets. All of them have great stereo speakers and should be able to fulfill your entertainment needs just fine. Check them out!
HTC One M9 and M9+
You weren't expecting us to start this list with a phone other than the
One M9
, were you? HTC's flagship handset packs a powerful processor, looks gorgeous in its metal outfit, and rocks the party with its Boomsound speakers. And if you happen to live in China, you should really check out the
HTC One M9+
, which is the M9's larger, no-less-potent cousin.
HTC One E9+
The recently-announced
HTC One E9+
is a powerful multimedia device. It is equipped with a large, 5.5-inch display of QHD resolution, one of MediaTek's top SoCs, and tons of RAM. A pair of front-facing speakers graces its front. Kind of disappointingly, the smartphone isn't expected to launch outside of Asia.
Sony Xperia Z4
Back in April, Sony made the announcement of its latest flagship device, namely the Xperia Z4. It isn't all that big of an upgrade over its predecessor, the
Xperia Z3
, but it is an attention-worthy smartphone nonetheless, packing powerful hardware inside a sleek, water-tight body. While the Sony Xperia Z4 is meant to be sold solely on the Japanese market, a rebranded version of it might launch globally, according to rumors.
Sony Xperia Z3 Compact
Now here's a smartphone of a rare breed. The
Sony Xperia Z3 Compact
is one of the few handsets delivering top-notch hardware specs in a compact, pocket-friendly form factor. Plus, the handsets is IP68 certified, meaning that it is resistant to dust- and water damage. On a related note, you might not want to rush in and buy one if the Z3 Compact sounds like a phone for you. That's because a Z4 Compact may be announced in the coming weeks, according to rumors.
Google Nexus 6
The latest Nexus-branded smartphone stands in the opposite side of the size spectrum. It boasts a large, 6-inch Super AMOLED display with 1440 by 2560 pixels of resolution for sharp, detailed visuals. The
Nexus 6
also happens to be one of the few phones running Android in its pure, unaltered form, which makes it an ideal choice for Android purists.
HTC Desire EYE
It's not just the stereo front-facing speakers that make this phone special. The
HTC Desire EYE
boasts a generous, 13MP auto-focus camera on the front, paired with a dual-LED flash. As you can surely tell, this makes it a phone ideal for selfies. All in all, the Desire EYE rests in the upper mid-range category with its 2.3GHz Snapdragon 801, 2GB of RAM, and 5.2-inch, 1080x1920-pixel display.
HTC Desire 826
The
Desire 826
is one of the few mid-range phones rocking front stereo speakers. Pair them with its large, 5.5-inch screen and you end up with a very potent entertainment device. Further specs include a Snapdragon 615 SoC, 2GB of RAM, and a 13MP main camera.
Motorola Moto G (2014)
Speaking of mid-range phones, we give you the 2014-edition
Motorola Moto G
. Although not an entirely new model, this is still one of the best value-for-money smartphones out there, retailing for just $179 off-contract. Before you hit that "Add to Cart" button, however, you might want to know that the 2015-edition of the Moto G is likely around the corner, and chances are it will also be equipped with front-facing speakers.