Best phones to break the piggy bank for in the months ahead
43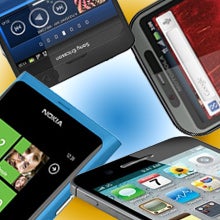 With the summer halfway through, we are gearing towards the busiest season for enticing smartphone releases. As usual, in the third and fourth quarter of the year manufacturers act on the principle "save the best for last", or, to be more exact, for the holiday shopping craze.
So which are the most anticipated phones yet to come our way by the end of the year? There are plenty of them, some announced, some rumored, but all of them exciting. Let's recap what we've heard so far, to know what shall we be saving for:
Apple
– the next iPhone, of course. Regardless if it will be called iPhone 4S, iPhone 5, or something else, the current generation will live a few months longer than usual.
Apple might announce it in August or September
, it seems, together with the release of iOS 5. For it to be a thin world phone with
dual-core A5 chipset and 8MP camera
is quite likely, but larger screen in the same body size and NFC capabilities not so much. One persistent rumor is for a
cheaper iPhone
to be introduced alongside with it, but we'll believe it when we see it, plus this cheaper version might just be the iPhone 4 with the price tag lowered.
Samsung
– nothing has been confirmed officially, but rumors point to a
Nexus Prime
being created by Samsung as a showcase for Google's
Android Ice Cream Sandwich
. The
wilderness of the Romanian rumor mill
is entertaining a
high-resolution Super AMOLED Plus HD display
. To defend the HD moniker it should be 720x1280 pixels and, if the screen size is 4.3", that means the astonishing 342ppi, something that can only be achieved in
Samsung's new OLED factory
with the laser-based LITI production method, although we haven't seen or heard about one being demonstrated yet. Of course, there is plenty of time before the rumored October/November launch of the Nexus Prime. As for the alleged deeper integration with Google's services, it might appear in the form of a
dedicated point of access to Google+
on the next Android poster child.
1.4GHz Galaxy S II equivalent in time for the next iPhone
, which, however, is to be outside of the Galaxy line, and that excludes the 1.4GHz Samsung Galaxy S II Mini. This might actually be the Nexus Prime again, tipped from different sources, since its chipset is supposed to be the dual-core 1.5GHz TI OMAP 4460, which currently is the only silicon capable of delivering 3D-HD video recording in 1080p, if you feel like it.
Last, but not least, Samsung is preparing a
Windows Phone equivalent to the Galaxy S II
, and that would mean Microsoft's new mobile OS will be entering the multicore era this fall.
It was shown briefly at Microsoft's WPC 2011 conference the other day, mentioning how slim and light it is.
LG
– the world's third largest phone producer will soon be coming with the
LG Thrill 4G
on AT&T, which is a rebadged version of its
LG Optimus 3D
.
Motorola
– we are undoubtedly looking forward to the
Motorola DROID BIONIC
, which has been elusive ever since the company announced it.
Moto ran into issues with the Tegra 2 chipset power management
, which might prevent it to this day of having Full HD 1080p video recording on the Motorola ATRIX 4G, and some of these might have reflected on the DROID BIONIC launch date. Anyhow, we should expect
the first LTE handset from Motorola in August
, this time with 1080p video recording from its 8MP camera.
In addition,
Motorola PHOTON 4G will be heading to Sprint July 31st
, with its dual-core chipset, 4.3" qHD display and... a
kickstand
to watch movies on the nice display in comfort.
HTC
– with the
HTC Sensation 4G
barely out, and the
HTC EVO 3D
just gaining traction, nothing much is being heard about the next steps for HTC on the Android front. In regards to Windows Phone, however, a monster
HTC Eternity
is being rumored for the fall, with
4.7" screen
and 1.5GHz chipset, most likely of Qualcomm's variety. While we might argue that 4.7" is too big, HTC could have gone
edge
-to-edge, making it not larger than today's 4.3-inchers.
T-Mobile myTouch 4G Slide
is also made by HTC, and features a 1.2GHz dual-core Snapdragon silicon, slide-out QWERTY, 3.7" display and an 8MP camera.
T-Mobile touts the handset's photographic capabilities as the best on a smartphone, presumably because of the HDR technology applied.
This one we should be seeing very soon, on July 27th.
Sony Ericsson
– here we are waiting most for the
Sony Ericsson Xperia duo
, allegedly the company's first dual-core handset.
Moreover,
if leaked pictures are to be believed
, it looks slim and sexy, plus the rumored specs are 4.5" qHD display, 12MP second generation Exmor R camera sensor, and 1.5GB of RAM, plus huge 2500mAh battery to keep you going for hours on end.
If all of this materializes, we don't even want to wager on the price of this one, considering it's a Sony product.
RIM
– the phone we are anticipating first from the Canadians is the touchscreen-equipped
BlackBerry Bold 9900
with OS 7, which sports the traditional BB form factor. The fall is marked for the
BlackBerry 9810 "Volt"
slider, which is expected to replace the
Torch
.
The real kicker, however, might be the 3.7", touchscreen-only
BlackBerry 9860 Storm 2 refresh "Monza"
, again rumored for the fall.
The 9860 is also expected to sport a 5MP camera with HD recording, and 1.2GHz processor, finally ushering the company circa 2010.
Nokia
– we saved the wild card for last. It seems that the MeeGo-powered
Nokia N9
is gaining its loyal set of fans, and rightfully so, with its seamless screen-phone transition, and buttonless front, not to mention the 8MP Carl-Zeiss camera on the back, which Nokia swears will deliver
results similar to the Nokia N8 in a much thinner package
.
The other big deal from the Finns is, naturally, the
Nokia Sea Ray
, which had a
corporate leak
not long ago, showcasing hardware very similar to the Nokia N9, but running Windows Phone Mango, which would not be a bad start for the Nokia Windows Phones at all this year. Another one with QWERTY keyboard is also rumored in the pipeline for holiday delivery, but details remain a relative mystery so far.
Which of these highly-anticipated handsets have you started saving for?