Best new Android and iPhone games of the week (August 11th - August 17th)
0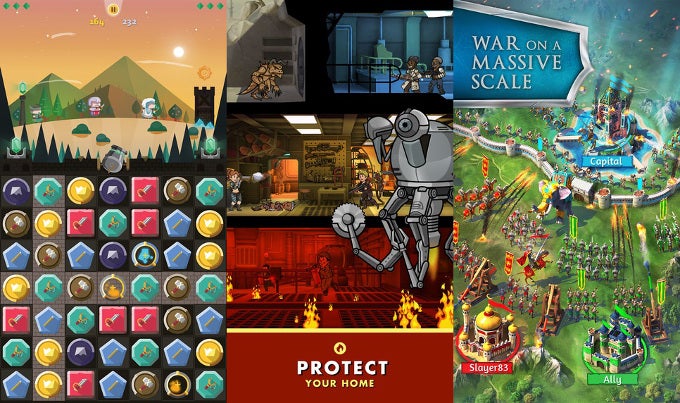 Let's start off the week with some fun with the best new Android and iPhone games so far in August 2015! In our weekly round up of the best new Android and iPhone games we introduce you to everything new and worthy with no limits to the genre, platform, or price. We can't guarantee that you'd love the genre of the game we've picked, but if you do, chances are you'd spend hours playing one of these games.
Some innovative new releases
The big news this week is the launch of Fallout Shelter on Android. After the game made its debut on iOS first a few weeks ago, the game is now available on the Android ecosystem and is available as a freemium release.
And while we're used to seeing many great new games, this week we're smitten with the sheer amount of new releases. We enjoyed the innovative gameplay of Sniper Who Forgot To Open Eyes a lot, this is a game that will surprise you. There is more to that, though. We won't spoil it - just take a look at our selection of the best new Android and iPhone games for the past week right below.
Fallout Shelter
*new for Android
Genre: City builder
Called Fallout Shelter, the game basically puts you in control of your own vault, with all the cool things that might be happening in there, much like a life simulator, Sims-style. Optimized for a touch screen, Fallout Shelter allows you to build new quarters and level the residents up, plus you can really reproduce them the old-fashioned way, but we will save the details on that bit for when you install the game and play around with it a while.
Sniper Who Forgot To Open Eyes
Price: Free
Genre: Experimental shooter
You would think that a sniper game with black backgrounds and no graphics whatsoever would be a trap, but it has some surprises up its sleeve.
Battlestations: Harbinger
Price: $3.99 (launch price)
Genre: Real-time strategy
Battlestation: Harbinger is a real-time (RTS) space strategy game. Set in a universe, where 3 other species and an unknown threat are nearby, you will command many of the best ships the human race has to offer. Discover new technology and enjoy a gripping story this space adventure simulation game offers.
March of Empires
Price: Free (with in-app purchases)
Genre: Strategy
In March of Empires you get to claim your title as either a Highland King, Northern Czar or Desert Sultan, leading an army in a strategy game where territorial conquest never ends. Your mission is to fortify your castle, fuel a massive army, and enter the fight for realm domination, but as your empire expands it's bound to run into other ambitious lords...
Battle Golf
Price: Free
Genre: Sports/Casual
Battle Golf is a true gem in the casual sports game niche: it comes with a challenging multi-player, but it is the multi-player where you can have the most fun, mastering shots and trying to outshoot your opponent (all means are accepted, you can even hit it with a golf ball).
Hanger World
Price: Free
Genre: Casual
The popular Hanger game returns in this Hanger World sequel, where you swing your ragdoll through dangerous levels filled with razor sharp blades, lethal lasers, hungry monsters and all sorts of limb cutting obstacles! The question is: Can you make it to the finish line without losing too many body parts?
Rollercoaster Tycoon 3
Price: $4.99
Genre: Sim
It's the classic rollecoaster tycoon you know from PC well adapted for mobile and with no in-app purchases.
The Long Siege
Price: $1.99
Genre: Match-3
The Long Siege is a real-time match-three puzzle game with RPG elements set inside an extraordinary atmosphere of music and visuals. The core mechanic centers on matching items in your own tower through a mixture of belt-type scrolling and single taps to command your army. It's a fun-to-play strategic thinking challenge requiring you to plan ahead to summon the right units, level up, upgrade your defences and complete the quests to unlock special items.
Space Drill
Price: Free
Genre: Casual
In Space Drill your task is to drill through the enemy space station and destroy its core. Touch left and right to dodge the obstacles coming your way. Keep an eye out for the Heat level of your drill – you can't let it overheat before reaching the core.
Oddwings Escape
Price: Free
Genre: Casual
This physics based game features an immensely beautiful colorful landscapes and a relaxing gameplay where you have to fly as far as possible, uncovering secret pathways, and you can even play it in multiplayer.
Monsters Ate My Metropolis
Price: Free (with in-app purchases)
Genre: Card
This new game in the Monster series allows you to pick your favorite kaiju, assemble a deck of special cards and time your attacks to destroy the city, as well as battle rival players from around the world to decide who's king of the monsters.
Tactile Wars
Price: Free
Genre: Strategy/TD
In Tactile Wars, you employ infantry, mines, tanks, turrets, mercenary recruitment, troop upgrades, and alliances with other players to craft the best strategy for winning.
Blood Gate - Age of Alchemy
Price: Free (with in-app purchases)
Genre: RPG
Blood Gate: Age of Alchemy is a gothic adventure game with fast-paced match-3 puzzles and real-time combat, all combining in a mobile RPG. You get to manage 3 epic hero classes and customize them with over 900 unique skills and gear for specific enemies. Your thirst for loot, tag team party strategy, and puzzle intensity will deliver victory in fights.
Engines of Vengeance
Price: $0.99
Genre: Combat arena
Engines of Vengeance is a combat arena game where you build your own combat machine to defeat your opponent. In this game the challenge is to construct a vehicle with dozens of objects to beat your opponent, as you can play against AI or your friends.
Gathering Sky
Price: $2.99
Genre: Casual
Guide a flock of birds on a playful journey across the sky. Dance in the winds of a far-away world and create an emotional story without words.