Best new Android and iPhone games (June 23rd - June 29th)
4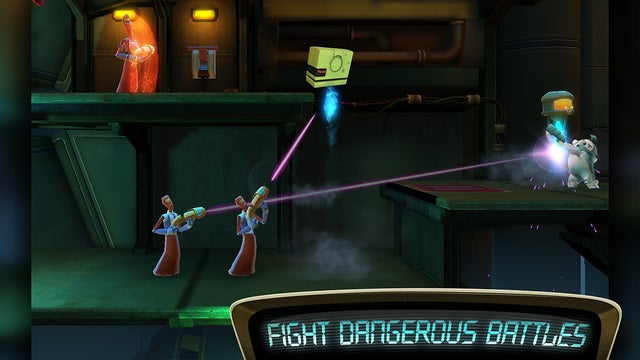 Let's start off the week with some fun with the best new Android and iPhone apps so far in June 2015! In our weekly round up of the best new Android and iPhone games we introduce you to everything new and worthy with no limits to the genre, platform, or price. We can't guarantee that you'd love the genre of the game we've picked, but if you do, chances are you'd spend hours playing one of these games.
These are the best new games of the week
This week marks the arrival of one of the best Japanese RPG games - Dragon Quest VI - which is now re-done for touch controls and available on both iOS and Android. Another interesting new game is Her Story, a mash-up of an adventure game with a cinematic, real-life-like experience. Apart from these two most notable titles, there are awesome games in various genres and styles that we've summed up right below.
With no further ado, here is the full list of the best new Android and iPhone games of the past week.
Dragon Quest VI
Price: $14.99
Genre: Japanese RPG
Dragon Quest VI: Realms of Revelation is the final instalment in the Zenithian trilogy, where your task is to recover the heroes' long-lost memories, and bring the two worlds together. As you progress in the game, the hero and his party will gain access to Alltrades Abbey, where they can specialise in any of over sixteen vocations. Train your skills in your chosen vocation, and learn a multitude of spells and special abilities.
Her Story
Price: $4.99
Genre: Cinematic adventure
Her Story is a game about a murder case and a witness. With a real-life cinematic element, it plays as a CSI episode where you get to solve the case with the help of a police database, access to camera recordings. Your task is to listen and make sense of seven interviews of a British woman telling the story of her missing husband.
Tales From Deep Space
Price: $6.99
Genre: Puzzle adventure
Tales From Deep Space is a comedic mis-adventure set on Big Moon, the most eccentric space station in the galaxy. Players help E, a traveling salesman, and his loyal luggage drone CASI escape when Big Moon is thrown into lockdown. E and CASI must work together to fight dangerous battles, solve fiendish puzzles and unravel the nefarious plot behind the mysterious "Meek" uprising.
Furdemption
Price: $2.99
Genre: Puzzle adventure
Furdemption invites you to embark on a perilous journey with a royal rabbit trying to escape hell with hot lava, deadly traps, and terrifying slug reapers in the way. The game features 100 hand-made levels that require both wits and skill to overcome.
the Silver Bullet
Price: $2.99
Genre: Stealth action
The Silver Bullet is a challenging stealth action game about Kali, a legendary "Goddess of Death" in the South America Revolution. After joinign counter-demon organization Neverlight, she is equipped with two pistols and a pack of silver bullets to hunt down demons. With dual pistol control you can aim and control the two guns separately. The game spans over 31 missions and features 14 bosses. Best of all? It does not feature tiresome in-app purchases.
Soul Hunters
Price: Free (with in-app purchases)
Genre: RPG
Soul Hunters is a hero collection RPG game that mixes up real-time strategy (RTS) elements with multiplayer dungeon raiding challenges. The game story revolves around a dark curse that has been cast upon the kingdoms and it's up to you to unite the heroes and break the curse.
Piloteer
Price: $2.99
Genre: Physics
This crazy physics game shows a world where jetpacks are real, but immensely hard to maneuver. Perform air stunts and tricks, or just fall with surprising clumsiness in this fun new release.
SBK15
Price: Free
Genre: Sporst/Racing
The world of motorcycle racing is one of challenge and adrenaline. Anyone who's ridden a motorcycles knows that it's a challenge handling the machine, let alone carving out turns at high speeds, and while SBK15 conveys little of that adrenaline, it is a decent game for those who enjoy the rhythm of a virtual motorcycle race as you lean into those turns.
Trappy Tomb - Mingleplayer crypt raider
Price: Free (with in-app purchases)
Genre: MMO RPG
Trappy Tomb is a massively single player online game with ghost replays that adds an unique replay value to its dungeon challenges. You get to dodge lethal traps, bats, pits and lava, as you grab loot and run for your life along with the ghosts of past players. You can also leave messages to help or hinder those who follow, unlocking new characters and secrets as you go.
FireWhip
Price: $0.99
Genre: Reaction/Casual
An interesting new casual game where you drag around yourself to spin, and as you spin you can swipe to release to crack your whip.
har-mo-ny 3
Price: $2.99
Genre: Puzzle
har•mo•ny 3 is a challenging puzzle game of beautiful colors and captivating music. New chapters feature 90 handcrafted levels. Your objective is to strategically rearrange blocks to reassemble each palette to its correct order.
Drop the Chicken 2
Price: $0.99
Genre: Puzzle
Drop the Chicken 2 is a fully animated challenging puzzle game where the hero, 'Chuck The Chicken', has been captured by the circus's evil monkey ring master and he must perform his way through each of the levels to win his girlfriend back.
KKRacing
Price: Free (with in-app purchases)
Genre: Racing
In KKRacing, you and your friends will start your own career, DIY your own racecar, unlock the tracks, fight enemies with skills, drift all the way, and experience the fantasy of racing world.