Best film and glass screen protectors for the Galaxy S8 and S8+
4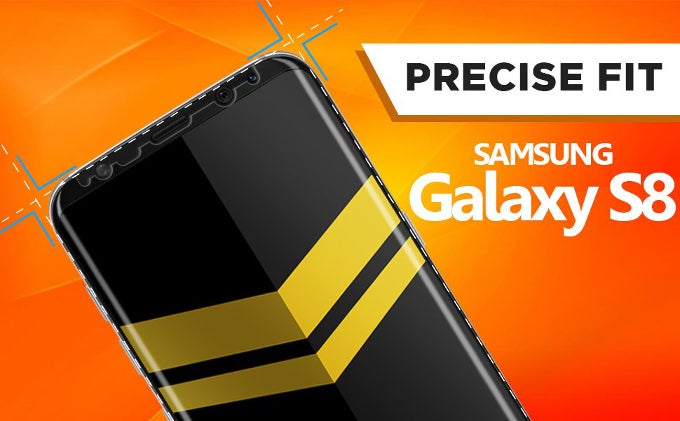 The
Galaxy S8
isn't with a flat screen this year, marking a radical departure from previous entrants in Samsung's flagship S line. Both the S8 and
S8+
come with flexible AMOLED displays this time around, in 5.8" and 6.2" diagonals, respectively. Granted, the dual-edge curved displays don't slope to the sides as much as on the S7 edge, and are more akin to what Samsung did with the Note 7, but still, you can bet your eyebrow that it is going to be very expensive to replace them, if you accidentally hurl the phone face-down towards Mother Earth.
Fret not, however, as barely has the Galaxy S8 and S8+ pre-order mania begun now, and there are already a few reputable accessory makers that offer screen protectors for your precious, unlike the times when the S6 edge took everybody by surprise, and it took a while to get a decent film protector for the device, let alone a tempered glass one. This year, however, Samsug supplied schematics, dummies, and even prototype S8 and S8+ units to accessory makers way before the official launch, judging from all the leaks that came from Chinese screen protector makers, and there is much more quality choices on the market.
That's still on paper, though, as nobody but carrier reps and reviewers really has a Galaxy S8 or S8+ in their hands, so we've rounded up a few of the film and glass screen protector offerings that come from good brands, and are likely to do the job, so that you can tack one on as soon as your preorder hits the doorsteps with your precious curved investment in tow. Samsung doesn't list an official screen protector yet, like it did with the S7 edge, so check out some of the third-party ones we found.
Coming straight from Korea, GPEL's thermoformed glass screen protector may be the most expensive of the lot you can currently get on Amazon, but it aims to shoot two birds with one stone - provide 9H hardened glass protection for your precious new Galaxy S8 or S8+, and at the same time a fit that will allow you to put a case on without obstruction, as those curved screen protectors often get in the way of a case, as many a Galaxy S7 edge owners would attest to.
The TechSkin line by Skinomi doesn't need much introduction, and you might think that eight bucks for a single sheet of plastic protection of your Galaxy S8 is too much, but we beg to differ. Unlike most others, Skinomi's TechSkin offers precise laser cutting around all the elements at the front to offer maximum screen coverage. The protector is made of the so-called "self-healing" thermoplastic urethane that is designed to absorb impact, resist scratches, and will not yellow with time from UV light. The TechSkin is flexible, so it is also very easy to apply on the slightly curved Galaxy S8 or S8+ displays.
If you want something less expensive, Spigen is always a good bet, and you can bet they have been ready with their Galaxy S8 wares for a while now. The NeoFlex line is pretty popular, as Spigen has been providing protectors within it for many high-end handsets before, and it is the Galaxy S8 and S8+ turn now. There are two sheets in the box, with a flexible TPU layer that absorbs the impact and at the same time offers "rainbow-free clarity," as Spigen puts it. The material is self-healing, oleophobic, and the NeoFlex is with wet installation that adheres mightily with no need to lift and risk trapping dust underneath.
Supershieldz is a value-for-money accessory maker, and tempered glass screen protector for the Galaxy S8 and S8+ is no exception. It is slightly less expensive than the Korean GPEL, yet also offers a 0.3mm 9H hardness, scratch-proof oleophobic coating, maximum clairty and touch sensiticity retention, plus bubble-free installation for the handyman-challenged.
Zagg makes one of the most popular screen protector series out there with its InvisibleShield line, and with a good reason, so if you wait a little bit they will apparently be releasing their Galaxy S8 and S8+ protection pretty soon, so we are just throwing this option as a bonus here for those who are fans of Zagg's quality.