Best T-Mobile smartphones (2017)
5
Once America's fourth major mobile carrier, T-Mobile is currently the third largest wireless provider in the US, outperforming Sprint (in terms of user numbers) since 2015. As a consequence, right now, T-Mobile has tens of different smartphones in its lineup, so customers may find it a bit hard to decide on what model to buy. But this is where we think we can help.
Below, you'll discover what we believe to be the best smartphones that you can buy from T-Mobile at this very moment. Incidentally or not, all handsets (except for the last one on the list) are dust- and water-resistant. You'll also find links to buy the smartphones, plus links to our reviews of them - useful if you want to find out more about each and every device.
Samsung Galaxy S8 and Galaxy S8+
Arguably the hottest smartphone duo of the moment, the Samsung
Galaxy S8
and
Galaxy S8+
offer dual curve displays and impressive screen-to-body ratios. There's barely any bezel around the screens of the S8 and S8+ (measuring 5.8 inches and 6.2 inches, respectively), and, thanks to this, Samsung's new flagships make plenty of competing smartphones look outdated. Of course, the S8 series isn't just about looks. Both the S8 and S8+ are powered by Qualcomm's mighty Snapdragon 835 processor, offer 64 GB of expandable storage space, high-quality cameras, and plenty of other attractive features.
T-Mobile is selling the Samsung Galaxy S8 for $30 upfront and $30 per month over 24 months, or $750 outright. The larger Galaxy S8+ can be purchased for $130 upfront and $30 per month over 24 months, or $850 outright.
Samsung Galaxy S8+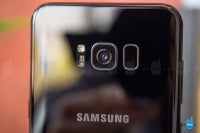 Apple iPhone 7 and iPhone 7 Plus
Like the Galaxy S8 family, Apple's
iPhone 7
series includes two handsets that differ mainly in size: the 4.7-inch iPhone 7, and the 5.5-inch
iPhone 7 Plus
. Both iPhone 7 models are powered by the blazingly fast Apple A10 chipset, offering performance that's hard to beat. Apart from its larger screen, the iPhone 7 Plus has a couple of other advantages over the smaller model: its battery lasts longer, and its rear camera can take better photos (thanks to its dual lens system).
Of course, Apple is seemingly getting ready to release a near-bezel-less iPhone 8 in the second half of this year. But, until then, the iPhone 7 and iPhone 7 Plus obviously remain the best Apple phones on the market (and among the best phones regardless of brand). Prices for the two handsets start at $649.99 (iPhone 7 32 GB) and go up to $969.99 (iPhone 7 Plus 256 GB) - you can choose to pay monthly, or outright.
No images
LG G6
If you want a high-end Android phone that doesn't have a curved display, but still offers an excellent screen-to-body ratio, look no further than the LG G6. Released by T-Mobile a couple of weeks earlier than Samsung's Galaxy S8, the LG G6 sports a 5.7-inch display with 1440 x 2880 pixels, and has a shock-resistant metal body. The G6 doesn't use the Snapdragon 835 processor that's powering the Galaxy S8 series, instead relying on the older Snapdragon 821 (which is still more than capable of providing a smooth user experience). On the plus side, the G6 features a wide-angle dual-rear camera, and it's significantly cheaper than the iPhone 7 and Galaxy S8 series - right now, it's being sold by T-Mobile for $500 outright, or $20 upfront and $20 per month for 24 months.
LG G6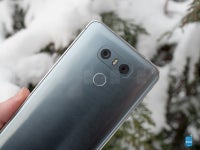 LG K20 Plus
Need a new and reliable smartphone that doesn't cost more than $200? The LG K20 Plus perfectly fits that description. This is a handset that's powered by a Snapdragon 425 processor and sports a 5.3-inch 720p display, while running Android 7 Nougat out of the box. The LG K20 is pretty elegant (for an affordable phone), and offers a fingerprint scanner, 13 MP and 5 MP cameras (rear and front), and 32 GB of expandable storage space. T-Mobile is selling the LG K20 Plus for $7.00 upfront and $7.00 per month for 24 months, or $175 upfront.