Best HTC One (M8) alternatives
62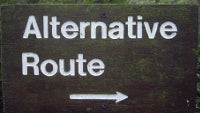 The new HTC One (M8) has gone official, and it's already
available for purchase on most major US carriers
(props to HTC for the quick release), but before you spend your hard-earned dollar on HTC's latest and greatest, you might want to take one more look at the best alternatives on the market.
After all, the new HTC One (M8) impressed us with its polished design and powerful hardware, but it seems that
HTC could have offered a little more in the camera department
. Moreover, other devices offer some unique features that you won't find on the new HTC One. For instance, you have a fingerprint reader on the Galaxy S5, and some users might want that feature. Others might crave a device with a larger display like a phablet, which the One (M8) is not.
With all this in mind, it's time to sum up the best alternatives to the new HTC One, and it's up to you to decide which one to get. Take a look below, and let us know your thoughts on all these handsets and how they compare to the new One.